Updated on: May 2nd, 2019
If you are here, chances are that you are an enthusiastic owner of a Fujifilm X-T20 or X-T30 and you are looking for some accessories to improve the user experience or expand your creativity. Whatever the reason, you've come to the right place!
The problem with accessories is that there is a lot of choice and picking the right ones isn't always easy. This is why we've carefully selected and tested all the products listed in this article. That's right, it's not just built around specifications and reviews we've read online. We bought them, we tried them and if we weren't satisfied, we replaced them with something else. We even went a step further: for each category, we compared two products so that you can choose the best one for your needs.
Last but not least, we tried to make this list personal. We've used the Fujifilm X-T20 for a long period of time and we currently own an X-T30 so we prepared the list with the following question in mind: would I buy these accessories for my own personal use?
Before beginning, please take a moment to read the following notes:
Suggestions: as you can imagine, it is impossible to try all the accessories out there. If you have experience with something in particular and would like to mention it, don't hesitate to leave a comment at the end of this article. We always welcome suggestions!
X-T10, X-T20 and X-T30: this article was first build around the X-T20, but because the three cameras are so similar, I've specified the compatibility of the three cameras for each product. For this reason, the list can be considered useful for X-T10, X-T20 and X-T30 owners.
Updates: as with many other posts on this website, this article is dynamic meaning that if we come across other products we like in the future, we may add them to the list.
---
Ethics statement: The accessories mentioned in this article all all items we either bought or received on loan for a period of time. We were not asked to write anything about these accessories, nor were we provided with any sort of compensation. Within the article, there are affiliate links. If you buy something after clicking the link, we will receive a small commission. To know more about our ethics, you can visit our full disclosure page. Thank you!
---
[toc heading_levels="2″]
---
Article updates
May 2019: added compatibility information for the X-T30, updated the powerbank list, added a selection of microphones and audio accessories, as well as memory card wallets
---
Design and comfort: half case
Half cases can give your camera a nice vintage look but they are appealing for other reasons too. First, while they might not cover the entire body, some parts are indeed well-protected. Second, they can improve the grip and comfort when holding the camera and this is exactly what I experienced with the X-T20 and X-T30. Being a small and compact mirrorless, the Fuji doesn't have the best grip, especially for someone like me who has big hands. The extra thickness on the front grip and the extra height at the bottom are both welcome features.
Useful notes:
Leather cases can discolour after long periods of use

if you often use a tripod plate, it can leave some marks on the leather part at the bottom
even though the case fits the camera well, dust can start to build up underneath over time

Fujifilm BLC-XT10 Leather case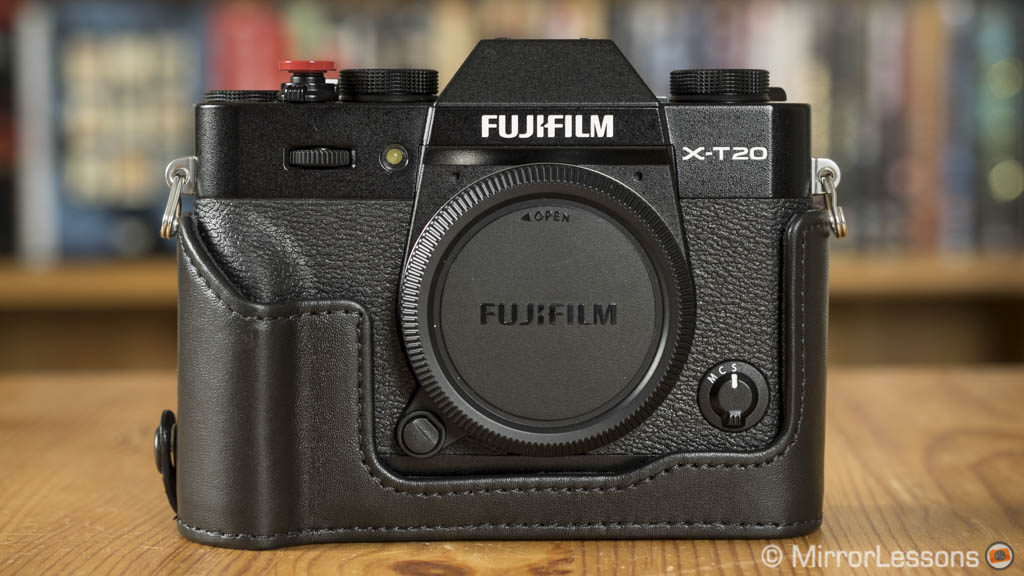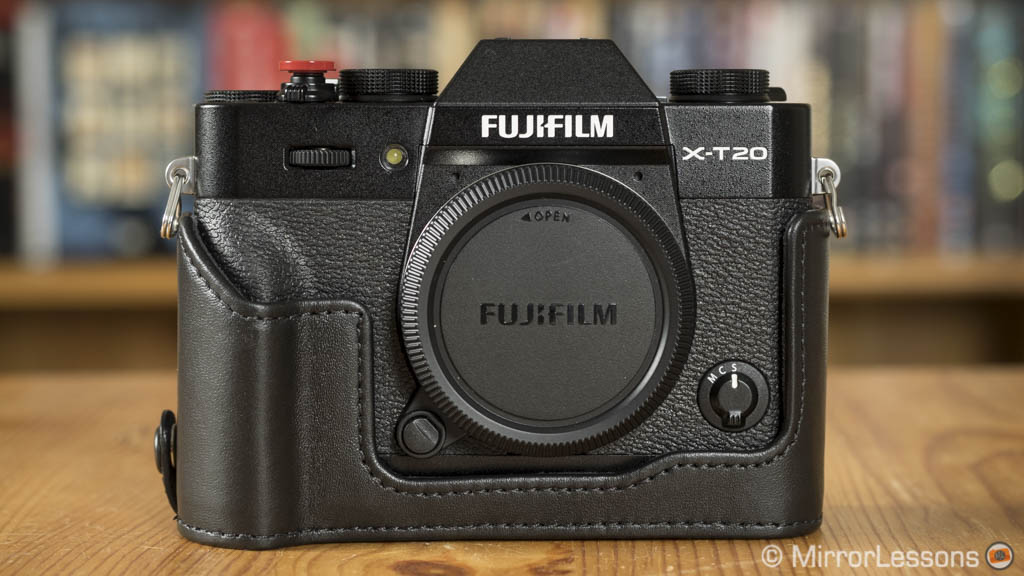 Our first contender is the official half case made by Fujifilm. It comes in genuine black leather so your camera remains discreet, which is good if you don't fancy something flashy and colourful. The case feels well-made and the stitches look strong. It has an opening for the battery compartment that is perfectly designed: getting the battery and SD card in and out is a cinch. You can attach a tripod plate directly to the case. It is a little bit pricey but the box includes a matching leather strap.
Because the case is slightly larger than the bottom plate of the camera, you have to tilt the LCD screen using the left side rather than the bottom. The only drawback? The case covers the USB/HDMI/remote ports on the left so if you use these connections often (remote control, microphone etc), it's not the case for you.
Good: leather quality, grip and comfort, tripod socket, battery and SD card remain accessible, leather strap included
To consider: LCD needs to be tilted using the left edge, it covers the USB/HDMI/2.5mm connectors, available in black only
Compatibility: X-T10, X-T20 and X-T30
Check price of the BCL-XT10 on B&H Photo
Megagear "Ever Ready" Leather case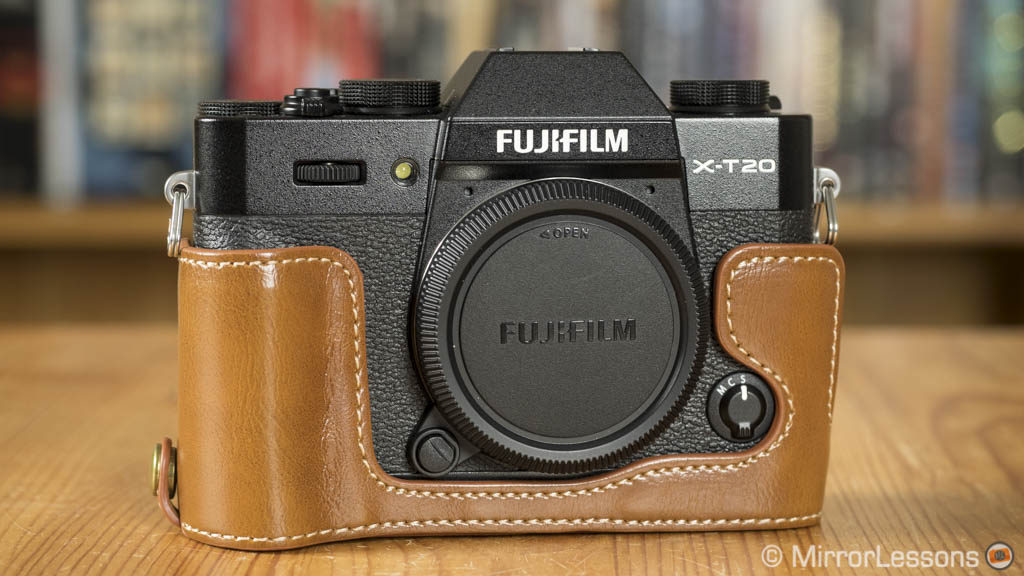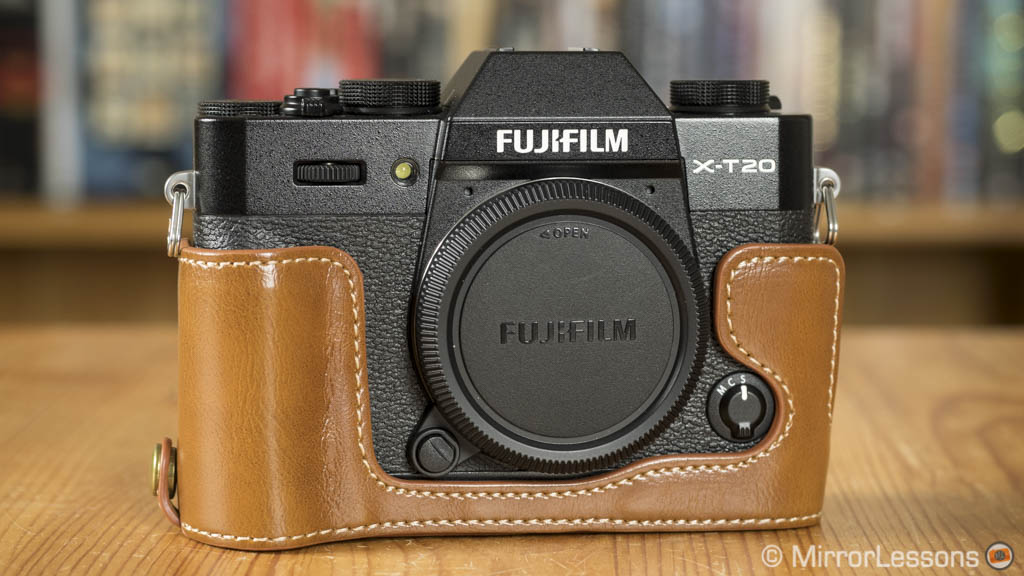 If you are looking for an inexpensive option, the half leather case from Megagear is a valid choice. It comes in a much simpler package (no box, just wrapped in plastic) but is available in different colours (black with red stitches or brown with beige stitches). It is lighter but retains the same features as the Fuji version including access to the battery/SD card and a tripod mount. Furthermore it doesn't cover the connectors on the side. The bottom part has a little less height than the Fuji version, meaning you can tilt the rear screen from its bottom edge.
The leather is good quality although the stitching looks a little less precise in a few spots. The design on the front is a little bit different: it travels around the focus selector which makes it slightly more uncomfortable to turn but I don't consider it a deal breaker. If you remove the case, be aware that the screw doesn't remain attached like on the BCL-XT10 so you can easily lose it if you are not paying attention.
Good: price, colour choice, grip and comfort, tripod socket, battery/SD card and USB/HDMI ports remain accessible
To consider: the focus mode selector is slightly more difficult to turn but it's not a major flaw
Compatibility: X-T10, X-T20 and X-T30
Check price of the Megagear "Ever Ready" on Amazon, Amazon UK and eBay
---
Extra touch: soft release button
The X-T10, X-T20 and X-T30 have a threaded shutter release button to which you can attach various accessories. One of them is a soft button. I've used them on many cameras including the X-T2, X-Pro2 and X100 series and it's one of those things I love to have. You may think it only improves the aesthetics but it does actually bring some advantages: the shutter button becomes larger, it's easier to press and it reduces micro vibrations as your finger doesn't touch other parts of the camera (useful with slow shutter speeds).
Useful notes – I've never lost one accidentally but to be sure it doesn't happen to you:
make sure to screw it on with the supplied rubber ring as it creates friction and prevents loss
every now and then, make sure it hasn't loosened a little (such as after you remove it from your camera bag) and if it has, tighten it
Lensmate soft release button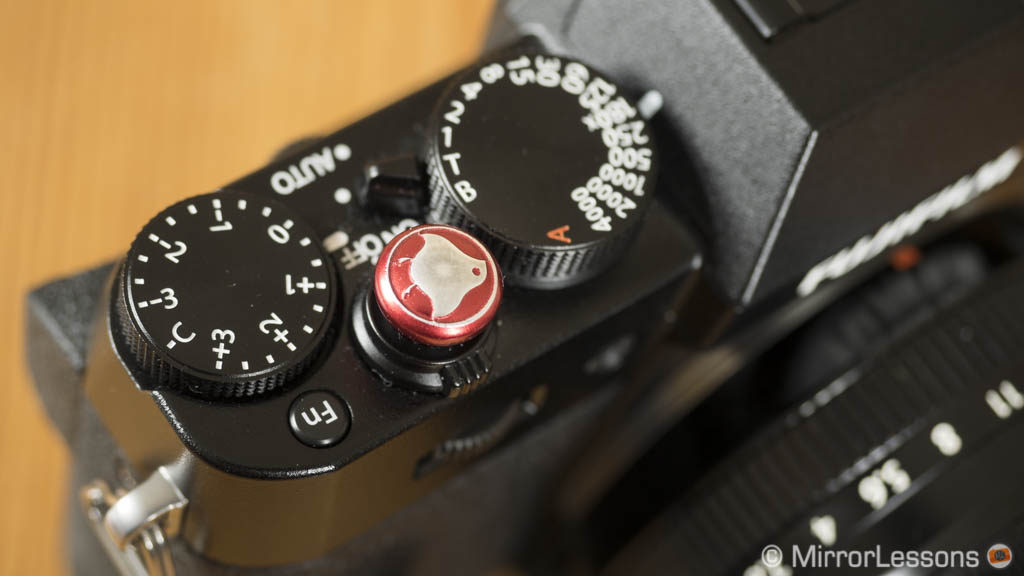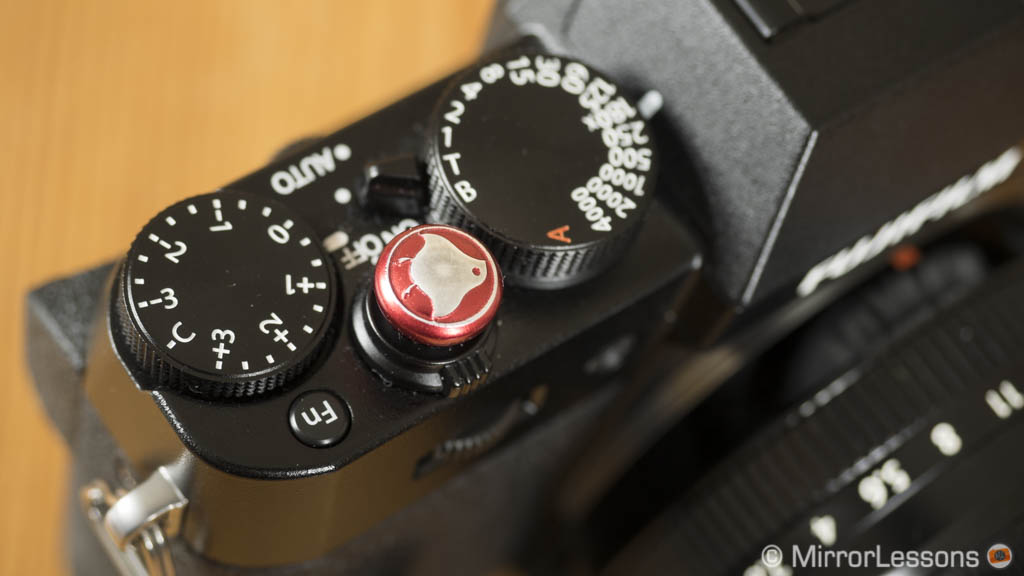 Lensmate products are my favourite. Not only is the quality top notch but there is a nice variety of designs to choose from. We own the Anodised Red Bird and Brass Lizard versions but there are many others with different colours and symbols. They add an elegant touch to your camera in addition to being functional.
Good: quality, choice of design and colours
Compatibility: X-T10, X-T20 and X-T30
Check price of the Lensmate soft button on Amazon and eBay

JJC soft release button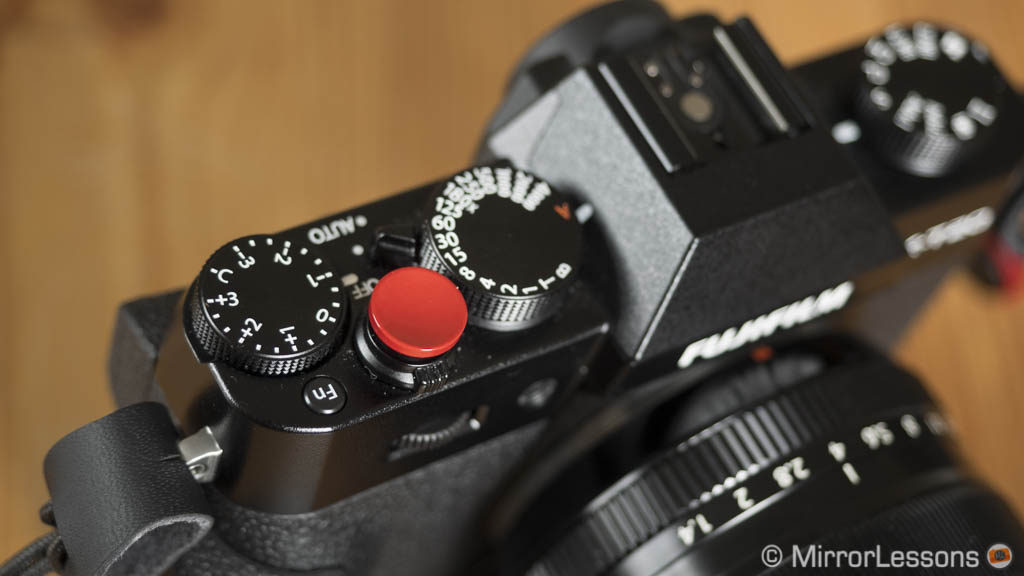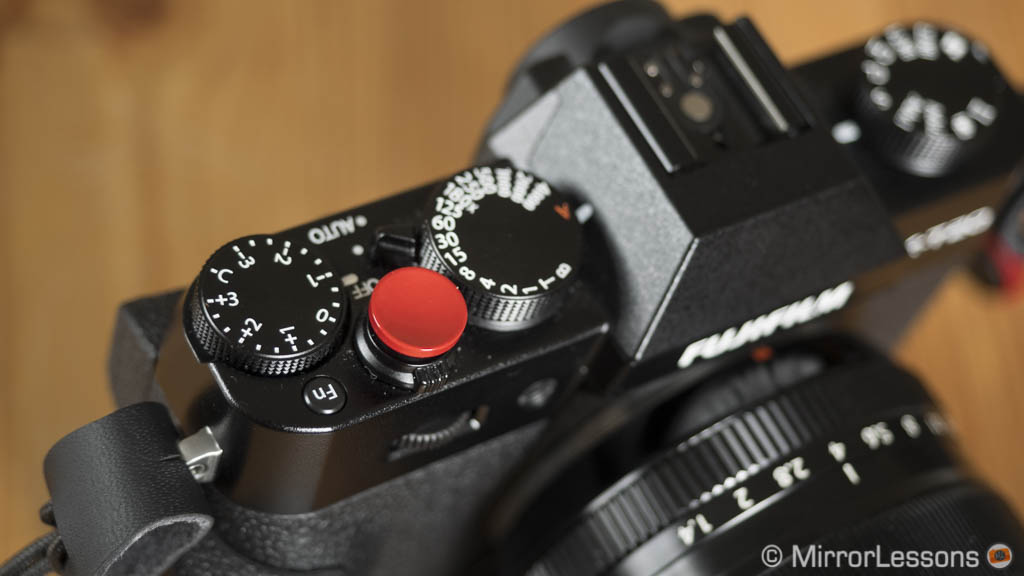 If you don't like the idea of spending more than 10 bucks for a soft button, then the ones from JJC are a good solution. There are different colours available and one advantage over Lensmate is that you can find concave versions. I chose the latter as it adapts perfectly to the shape of your finger. They are made of metal and come with two rubber rings (one is spare).
Good: inexpensive, good quality, choice of colours and form (concave or convex)
Compatibility: X-T10, X-T20 and X-T30
Check price of the JJC soft button on Amazon, Amazon UK and eBay

---
Extra protection: screen shields
Rear LCD screens are generally robust but you may not always be able to prevent tiny scratches from appearing after long periods of use. A more severe impact could damage it or leave a more distinctive scratch while others can lose their anti-glare coating after a while. Bottom line: spending a few dollars to protect the rear screen is not a bad idea (just as most people – including myself – protect their smartphones).
Useful notes:
make sure to clean the screen properly and check that there isn't any residual dust before applying it
I've never had big issues with internal bubbles but it all comes down to how you apply it (even if they say it's bubble free). Don't rush, apply it step by step and run your finger from the centre towards the edges or carefully from one side to the other to stick it in place. If some bubbles appear, drag them out right away.
mine have always lasted for more than a year
Expert Shield screen protector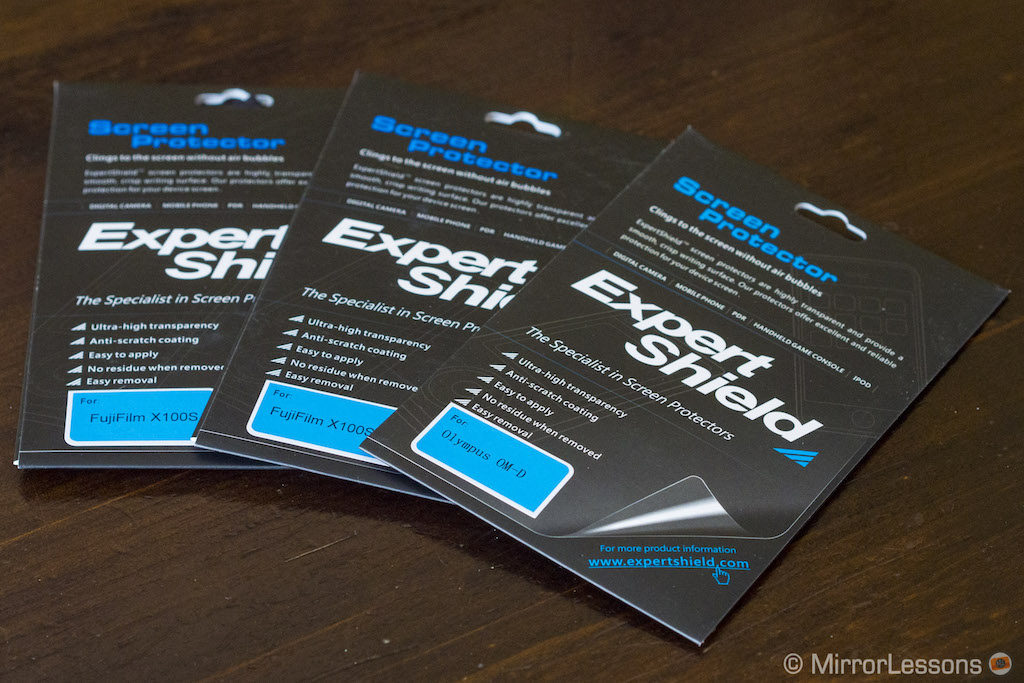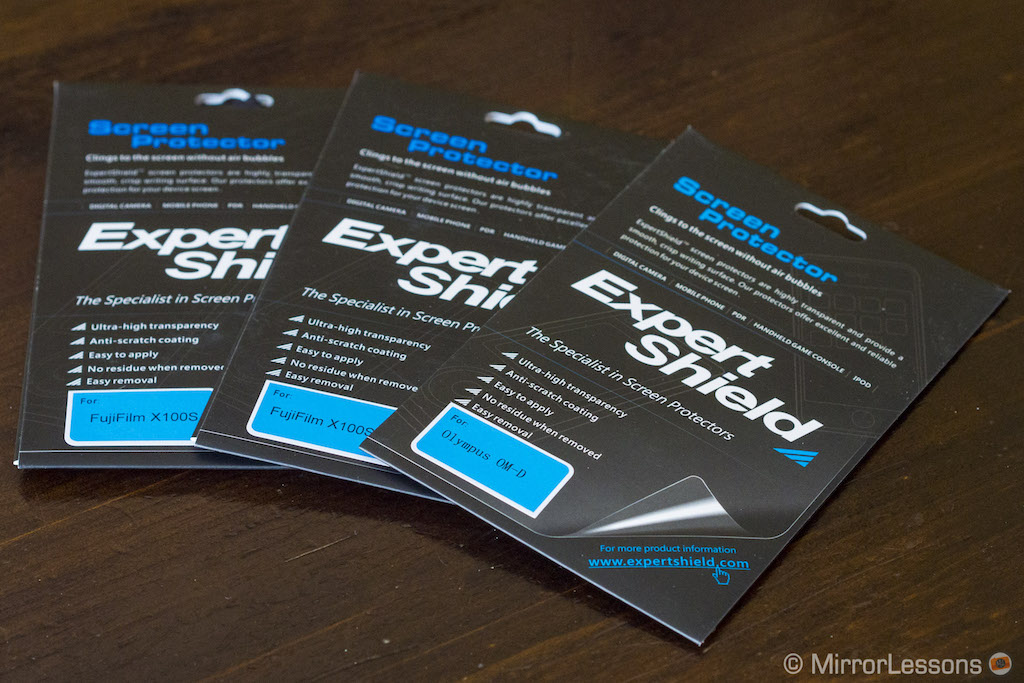 We used Expert Shield on several of our mirrorless cameras in the past and we've always found them inexpensive and reliable. There are three types you can choose from: Anti-Glare uses a special matte finish to reduce reflections, Glass is thicker (0.28mm) while the Crystal Clear version is less visible (0.15mm).
Personally I like the Glass version as it does a better job of protecting the camera against strong impacts. (However, it can also shatter more easily.) They are easy to install and remove and don't interfere with touch sensitivity. A lint cleaning cloth is included in the package.
Good: quality, easy to remove, three types to choose from, doesn't impact touch sensitivity
Compatibility: X-T10, X-T20 and X-T30
Check the price of Expert Shield on Amazon, Amazon UK, eBay and B&H Photo

GGS Larmor screen protector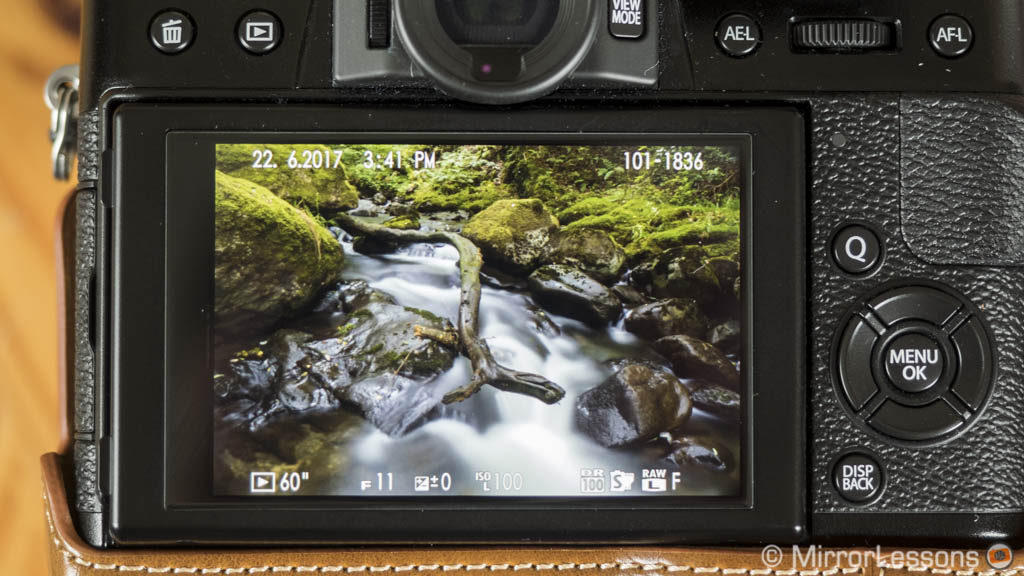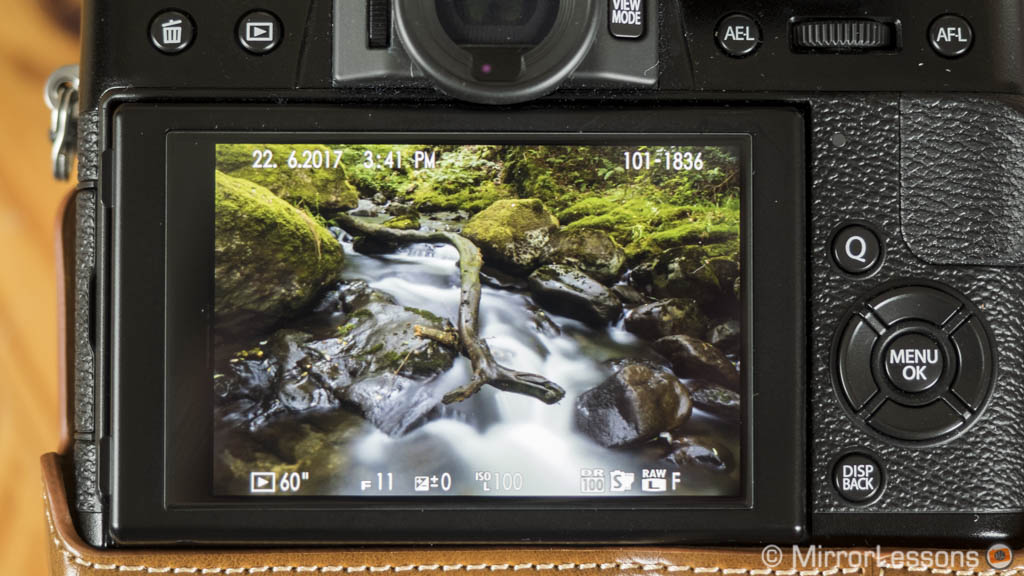 I recently tried the GGS protector and was very impressed by it. The first difference is that it comes with a black frame that matches the borders of the camera screen. It fits between the plastic borders perfectly. Thanks to its thickness (0.3mm) it is extremely easy to apply and I didn't have much trouble with bubbles. The design fits the rear monitor of the X-T20 perfectly, so much that it almost looks like it came with the camera. It comes in a nice plastic box and includes a wiping cloth.
Good: dark frame, robust, perfect size, no issues with the touch screen
Compatibility: X-T10, X-T20 and X-T30
Check GGS screen protector on Amazon and eBay

---
Better ergonomics: landscape grips and thumb rests
While the half cases seen at the beginning add extra comfort, you may be interested in a solution that solely concentrates on improving the grip rather than the aesthetics. There are two types of external grips you can add: a landscape version that attaches to the bottom of the camera or a thumb rest on the hot-shoe. They can even be used together, making the camera much nicer to hold and use.
Fujifilm MHG-XT10 hand grip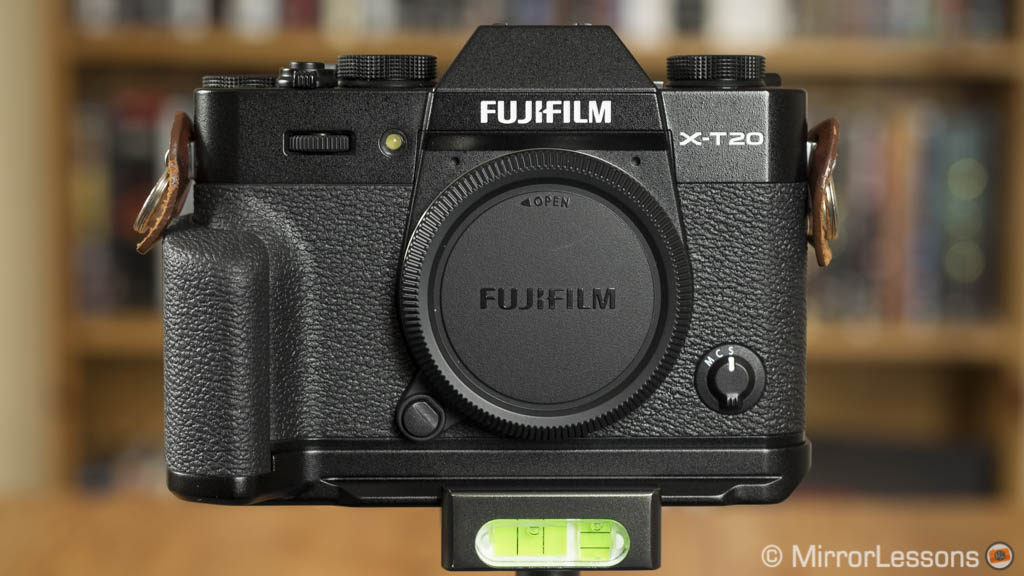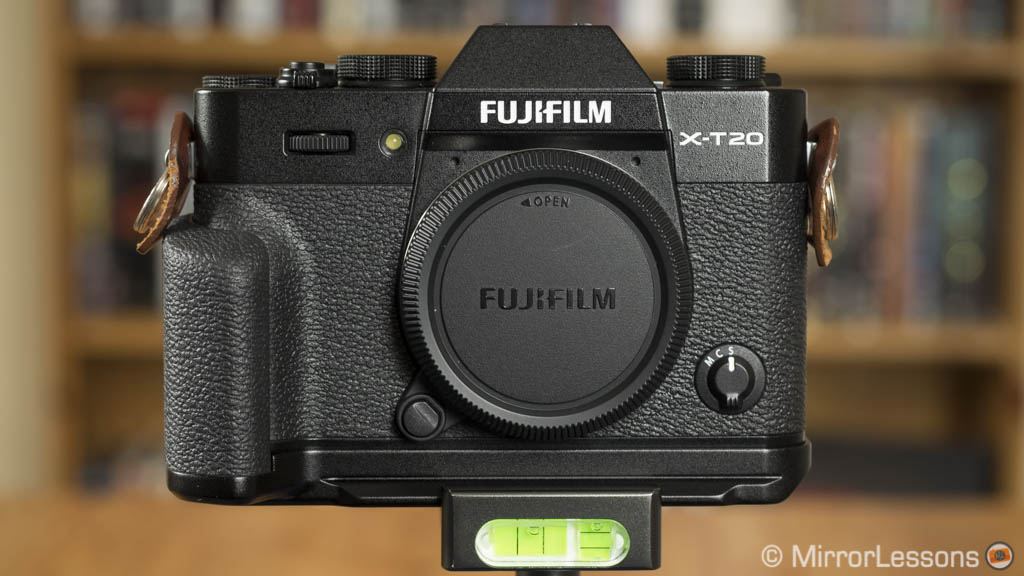 The official option is light, has a metal base and a plastic front, and is covered with faux-leather rubber that matches the design of the camera. It makes the front grip more prominent and gives it some extra height. The camera becomes easier to hold especially when your arm is relaxed as you don't feel that the camera is slipping away. There in an empty space at the bottom that allows you to access the battery/memory card.
Another advantage is that the tripod mound is centred with the lens axis – unlike the camera – so if you attach a plate to the grip, it won't prevent you from opening the battery compartment. That being said, only small plates don't block the battery door. If you use Arca Swiss tripods, you won't need a plate as the grip itself can be attached directly to the head.
And the downsides? The two little screws that hold the grip in place at the bottom feel a little weak and several users have reported that they lose them after a while (it hasn't happened to me yet). A simple DIY solution is to put a small piece of black tape over top to prevent losing them.
Good: makes the grip larger, moves the tripod mount to the centre (no obstruction to the battery compartment), arca swiss compatible
To consider: high price, twin screws that hold the grip can come loose
Compatibility: X-T10, X-T20 and X-T30
Check MHG-XT10 price on B&H Photo
Haoge L-plate grip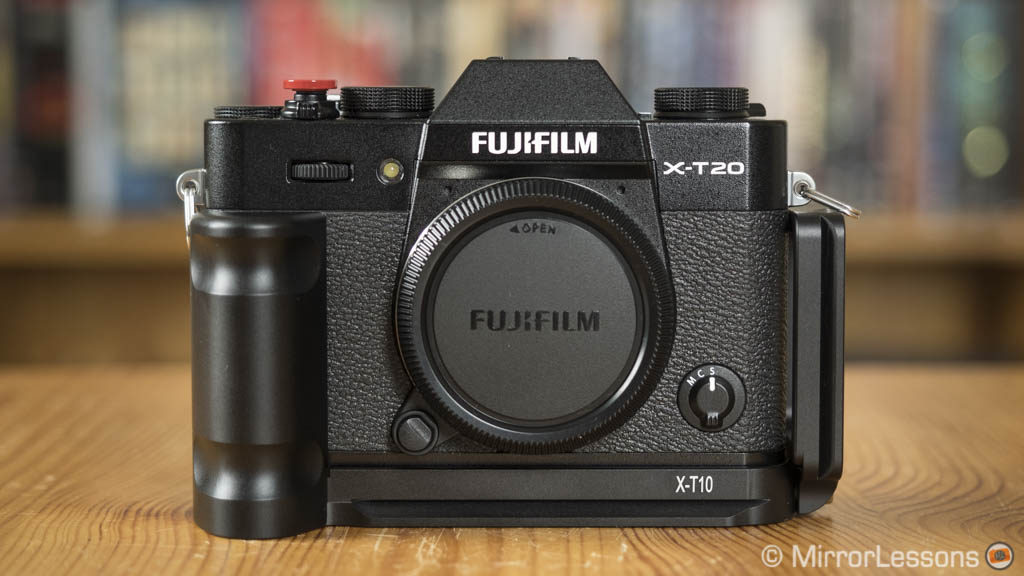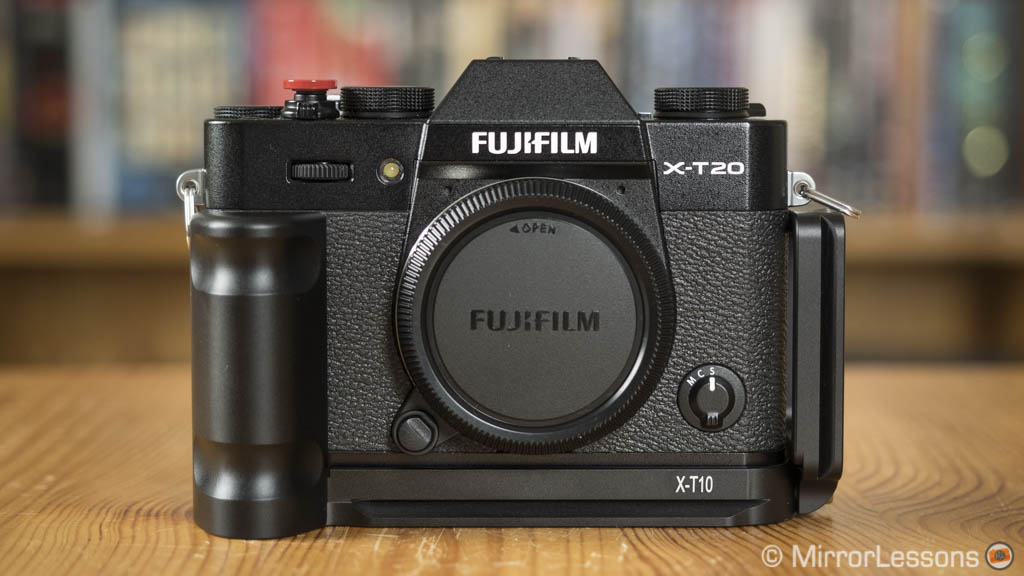 If you like the idea of a metal Arca Swiss compatible grip but don't want to spend too much money, the Hoage solution becomes interesting for different reasons.
First as you can guess, it is much more affordable. Second it comes with a removable L plate that allows you to mount the camera vertically on the tripod directly. The front grip is taller than the Fuji version which gives you a better grip when holding the camera even though the metal surface is slick. However keep in mind that the large grip size doesn't leave a lot of space for your fingers between the grip and the lens barrel when using a large lens such as the 50-140mm 2.8. The battery and SD card remain accessible. Like the MHG-XT10, the hole for an additional tripod base is separate but not as precisely re-centred.
When the L plate is attached, the connector door is impossible to open and the LCD screen is more difficult to tilt because of the lack of space on the left and bottom sides. It comes with a hex key (4mm) that allows you to attach the grip to the camera and the L-plate. The front grip is attached with two hexagonal screws that are more solid in comparison to the Fuji grip. However they are smaller: if you want to disassembled it or tighten the screws, the provided wrench is too large and you'll need to use a smaller one (3mm).
Good: larger grip, removable L-plate for vertical shooting, battery and SD card remain accessible, arca swiss compatible, low price
To consider: connectors door can't be opened when L-plate is attached, the provided hexagonal wrench is too large for the two screws that hold the front grip in place
Compatibility: X-T10, X-T20 and X-T30
Check Haoge L-grip price on eBay
Lensmate thumb grip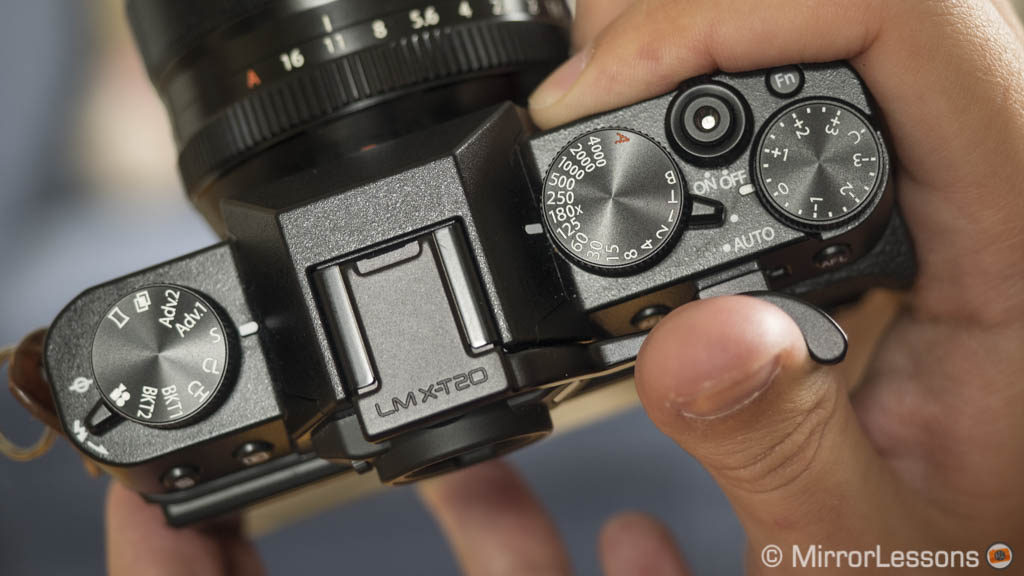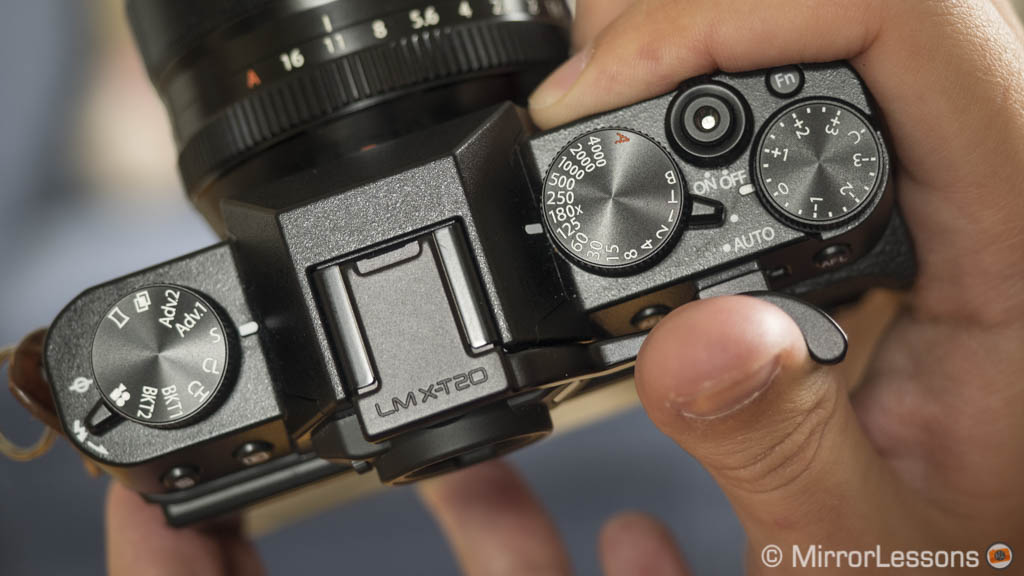 If you don't fancy landscape grips, a simpler solution is to use a thumb rest. It's a discreet solution that dramatically improves your grip on the camera. I've used them on most Fuji cameras including the X100 series, as well as the Sony a6000 series.
It is made of metal and specifically designed for the X-T20. It slides into the hot-shoe and features a silicone insert to provide a soft bumper between the grip and the camera. A second insert underneath the hot shoe tab prevents it from sliding out of place. It doesn't limit any access to buttons or dials. The only thing you won't be able to do is rotate the shutter speed dial with your thumb while using the EVF.
Good: improves the grip without adding extra bulk, sturdy, attention to detail, buttons and dials remain accessible
To consider: can become annoying to constantly slide in and out of the hot shoe if you often use it for other accessories (flash etc.)
Compatibility: X-T10, X-T20 and X-T30
Check price of the Lensmate Thumb Grip on Amazon and B&H Photo
---
Carrying solutions: neck straps
The strap provided with a camera is always basic but there are third-party products that are clever, more comfortable and, just as with the half case, can add a touch of style to your kit.
Peak Design Slide Lite strap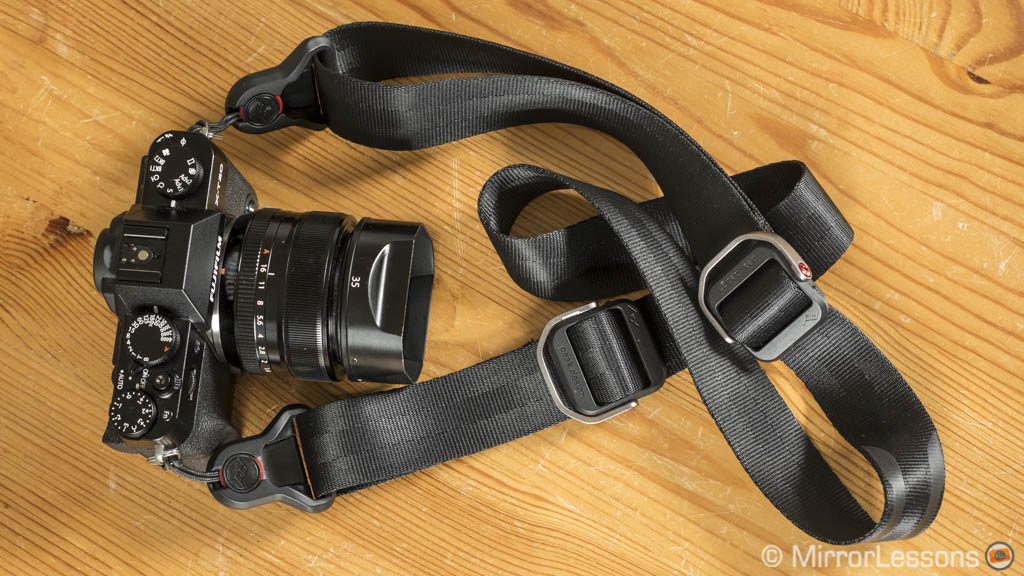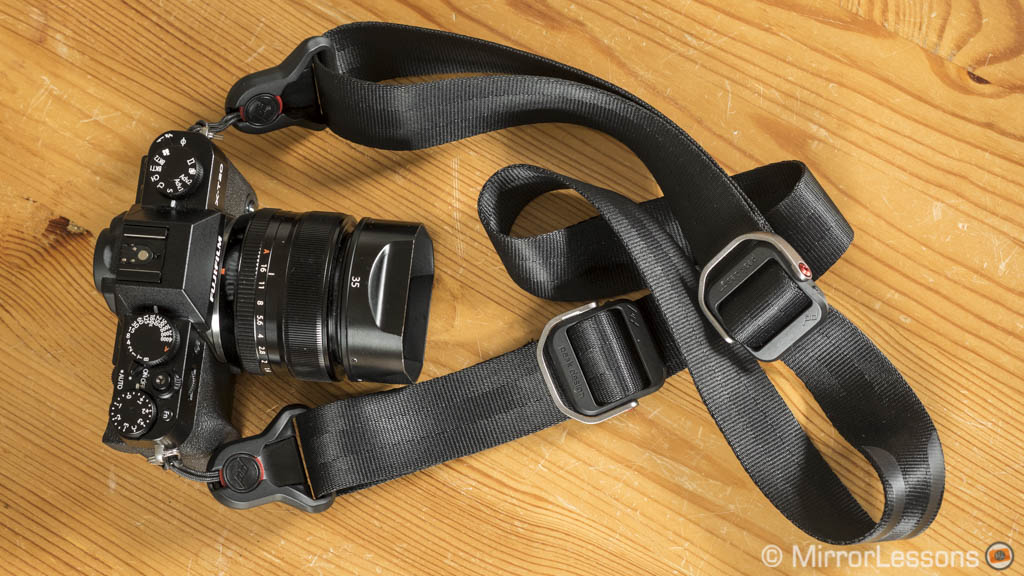 If you've been following us for some time, you'll know we are very fond of Peak Design products, and the Slide Lite is one of their best straps.
It is made of the same material used for seat belts. The aluminum quick adjusters allow you to extend or reduce the length of the strap very easily, allowing you to carry the camera around your neck or over your shoulder. The strap includes four anchor links which is the primarily reason we like these straps: you can attach/detach it instantly. The anchors are very robust and can sustain over 90kg: we've been using them from day one and never had any problems with them. There is also an Arca Swiss plate provided.
Good: robust, easy to adjust, anchor link system to quickly attach and detach strap
To consider: only one colour available
Check price of the Slide Lite on Amazon, Amazon UK, eBay and B&H Photo
4V Design Lusso Large strap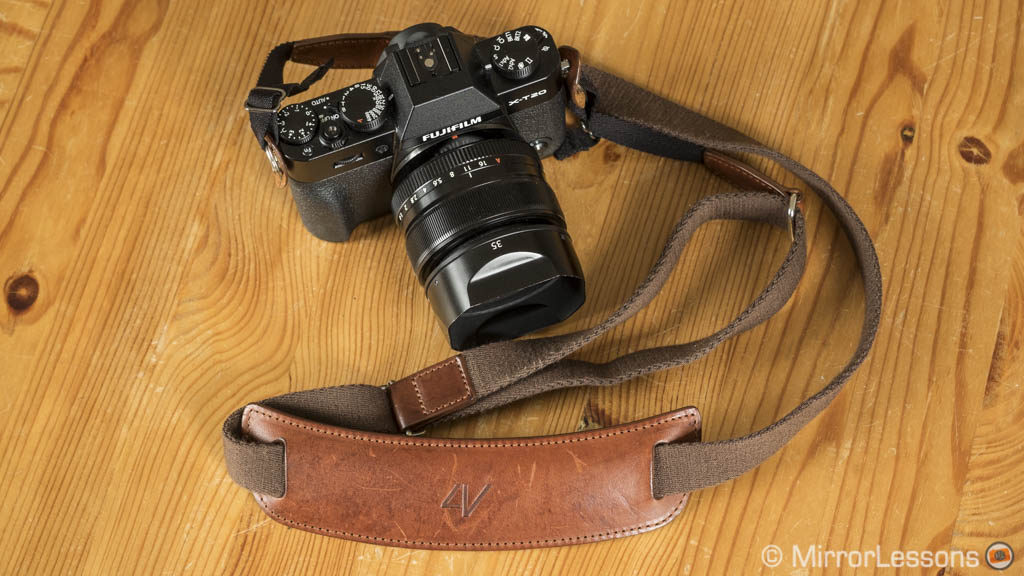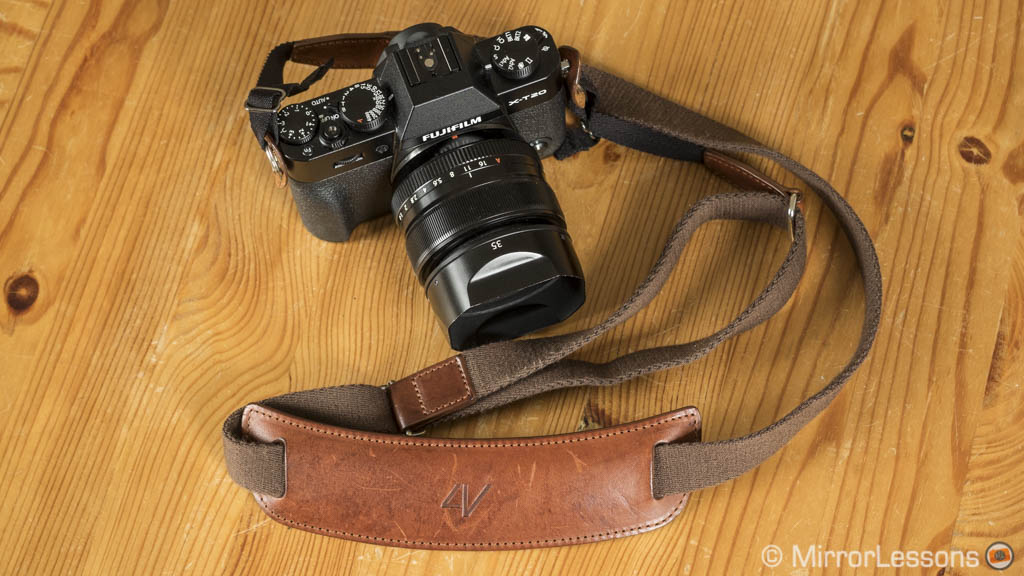 We had the chance to test several 4V Design products and we really appreciate the quality and attention to detail. They are made in Italy with Tuscan veggie leather and come in various colour combinations (leather and stitches).
The Lusso Large uses cotton canvas for the strap. It can be adjusted in length and is easier to fold than other materials when not in use. The main pad is very comfortable with leather on the outside and an anti-allergy pad on the inside. The edges are hand-painted. Bear in mind that if you have long hair, it can easily get caught underneath due to the grippy nature of the pad.
Included in the stylish box you will find two universal 10mm bands and protective covers. Note that there are three sizes: slim, medium and large and their designs differ (the medium uses a leather strap for example).
Good: premium quality, elegant design, comfortable
To consider: long hair can get caught underneath the main pad which can be a little uncomfortable
Check price of the 4V Design Lusso Large on Amazon, Amazon UK, eBay and B&H Photo
---
More power: spare batteries
The X-T20 doesn't have a bad battery life but for intense shooting or if you are traveling, having at least one spare battery is recommended. Plus the camera is a little bit slow in operation, so to improve the speed you need to select the High Performance option in Power Management that decreases the battery life more rapidly.
Fujifilm NP-W126S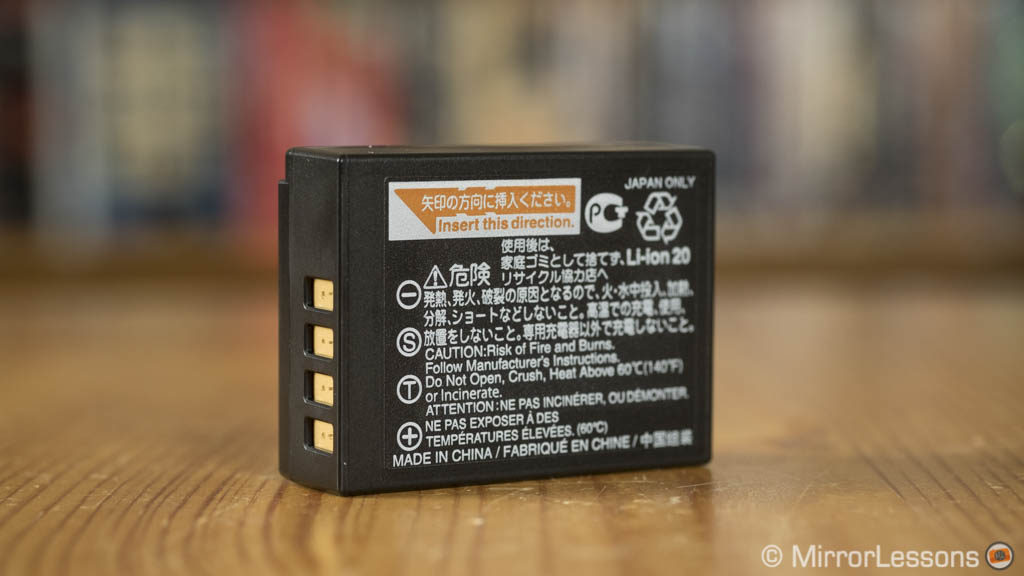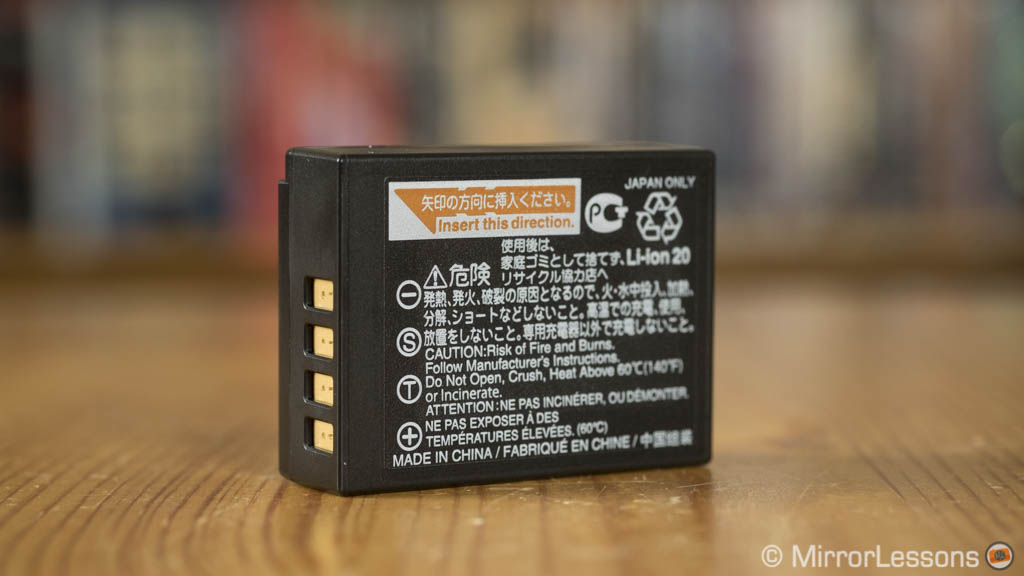 The camera is compatible with the new NP-W126S battery which was released by Fujifilm last year and improves the performance over the previous generation. It is definitely the best choice for the camera and works well on the flagship X-T2 and X-Pro2. Like most official batteries, it is more expensive.
Good: good performance
To consider: more expensive
Compatibility: X-T10, X-T20 and X-T30
Check price of NP-W126S on Amazon, Amazon UK, eBay and B&H Photo
Patona NP-W126 (Europe)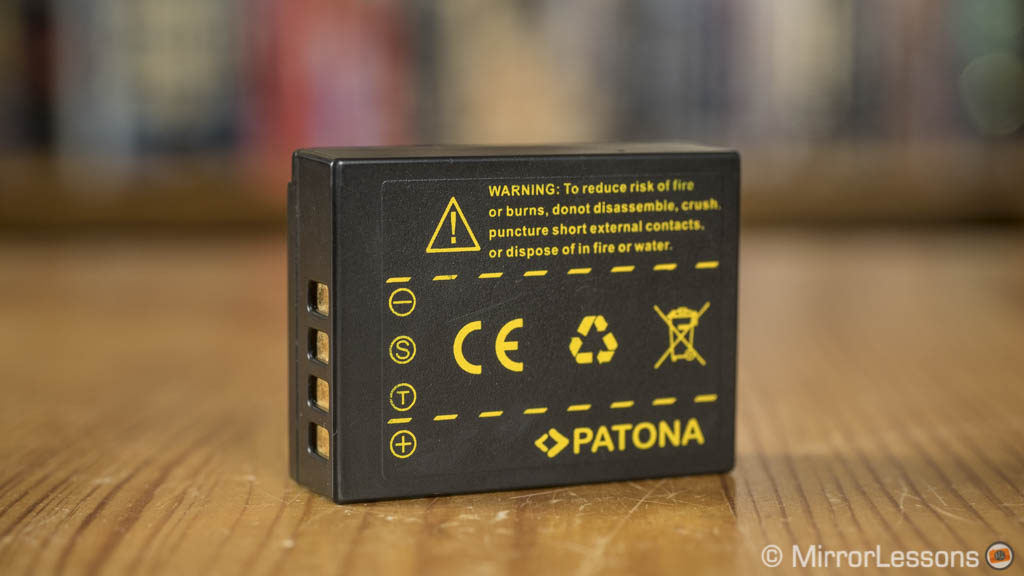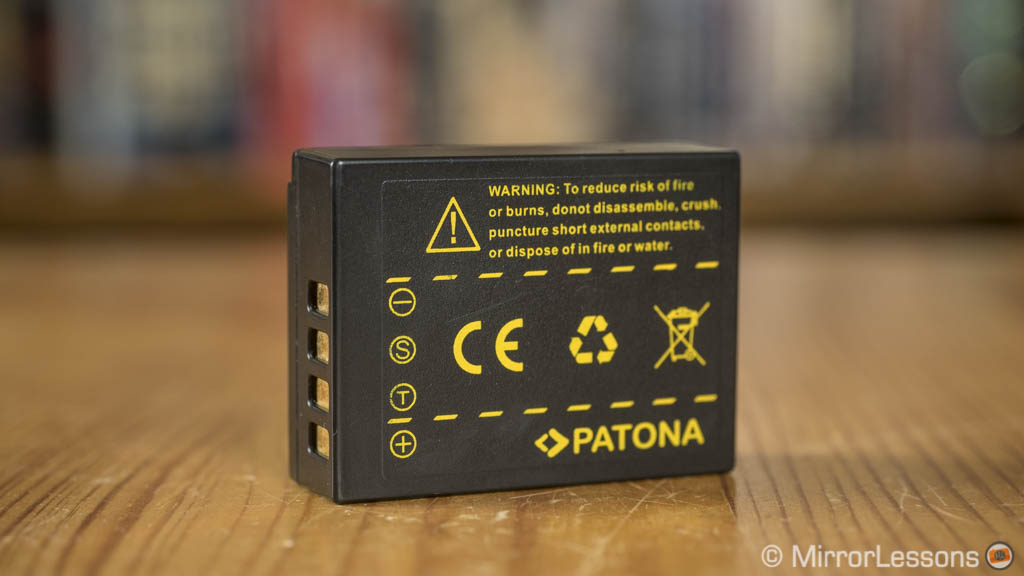 We've used Patona batteries on several of our mirrorless cameras over the past few years. They've proved reliable and their performance is almost as good as the originals. Obviously they come at a much more attractive price and you often find bundles with two batteries and a charger. It's hard to get better than that. There is also a premium version that is more expensive (but still cheaper than the official version) with a little more amperage.
Good: costs less than the official, can be found in bundles
To consider: performance is slightly below the originals
Compatibility: X-T10, X-T20 and X-T30
Check price of the Patona NP-W126 battery on Amazon UK and eBay

Wasabi / Watson NP-W126 (US)
The problem with recommending third party batteries is that you don't always find the same brand in all countries. If you live in North America, you will have a hard time finding the Patona brand but luckily there are other brands that have a good reputation. One of the most popular is Wasabi and just like Patona, it offers different bundles with more than one battery and a charger. An alternative is Watson: it is more expensive but offers an excellent dual LCD charger if you need to charge two batteries at the same time.
Note: because we live in Europe, these are the only items we weren't able to test personally.
Check Wasabi NP-W126 battery price on Amazon
Check Watson NP-W126 battery price on Amazon and B&H Photo
---
More power: portable charger
An alternative way to give your Fujifilm camera extra power is to connect a USB portable charger. Many are designed with smartphones or tablets in minds, but nowadays the compatibility has expanded to many other products. (You'll even find some that can charge a MacBook laptop.)
When it comes to mobile power banks, we're spoiled for choice. I haven't listed the most recent models here, but the ones I bought some time ago are still working well today. Just bear in mind that you can get similar units with more power, and more USB ports if you want to charge multiple devices at the same time. Some banks have rapid charger capabilities and USB C compatibility as well.
Note for the X-T30: since the camera has a USB C type port, you'll need a USB Type C to USB Type A 3.0 cable to use the devices below, which is not included in the box. Alternatively, you can buy similar products from the two brands that come with a USB C port and cable.
RAVPower 12000mAh Portable Charger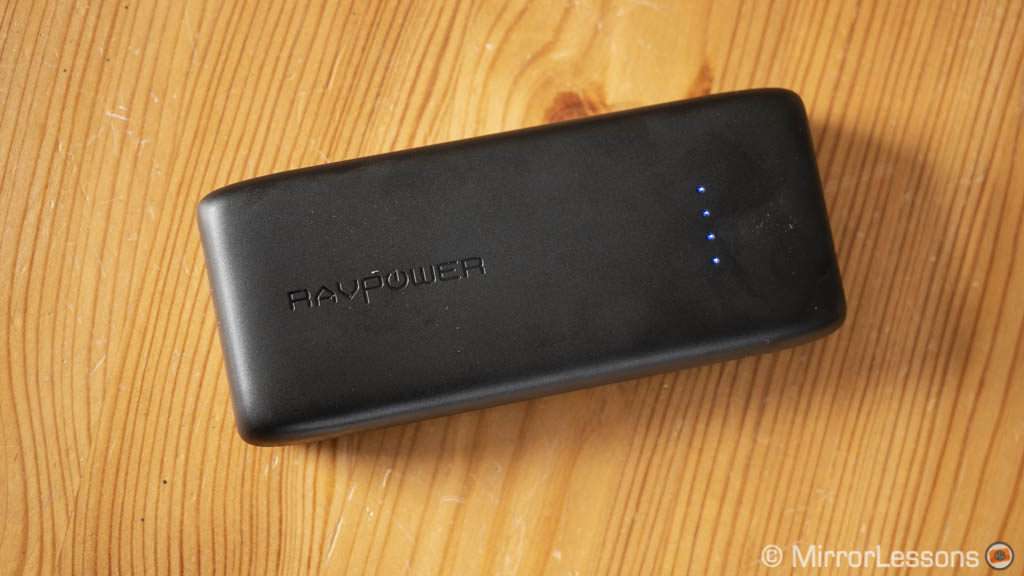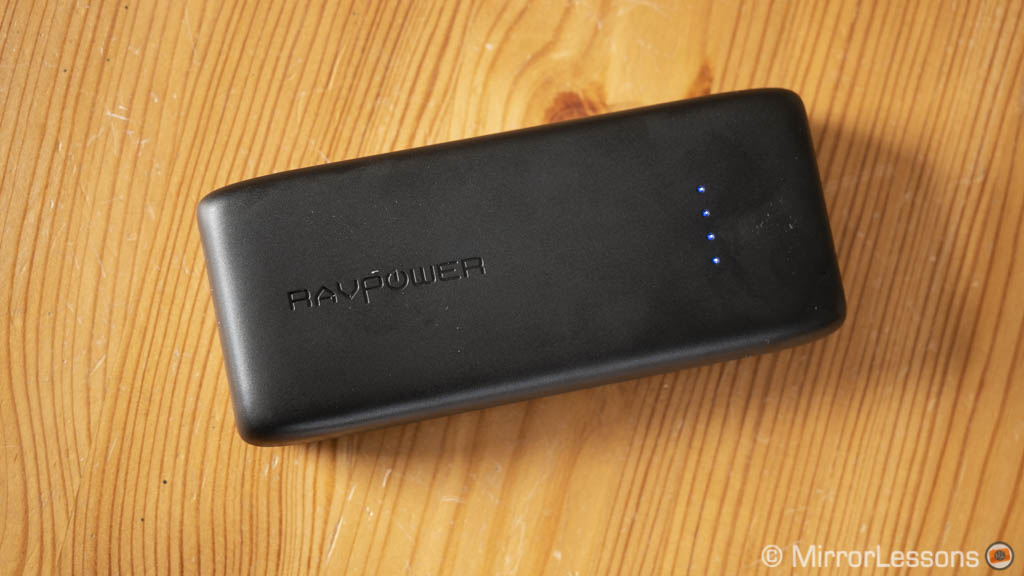 The RAVPower 12000 has a capability of 12000 mAh. The Fuji NP-W126S is 1260mAh which means that this unit can re-charge the battery approximately nine times. Remember however that charging over USB can require more time than with the supplied battery charger. In half an hour it gave me approximately a 40% boost (from 0 to 2 bars out of 5), then it kept adding 20% every 30 minutes, which means it takes approximately 2 hours to recharge the battery completely.
The design is pretty minimalistic and the only thing you'll find is four blue LED lights that indicate how much power the bank has left. It comes with two USB cables (different lengths) in the box.
The RAVPower unit has two USB 3.0 ports, so you can charge a second device such as a smartphone. Both the camera and the second device can receive power simultaneously. One of the USB port is Qualcomm 3.0 certified so it can charge a compatible device more rapidly.
On the X-T30, you can also use such a device to power the camera while using it. The USB C port takes power delivery which can be useful for time-lapse work for example, if you plan to stay out all night. Remember that the USB Type C to USB Type A 3.0 cable is not included.
Good: affordable, can re-charge the battery in TIME and can power two devices at once. On the X-T30, it can also power the camera while in operation.
To consider: battery charging via USB takes a long time
Compatible with: X-T20, X-T30 (you need a USB C to USB A 3.0 cable which is not supplied with this particular model); the X-T10 cannot be charged via USB
Check RAVPower 12000 price on Amazon, B&H Photo and eBay
Anker Mini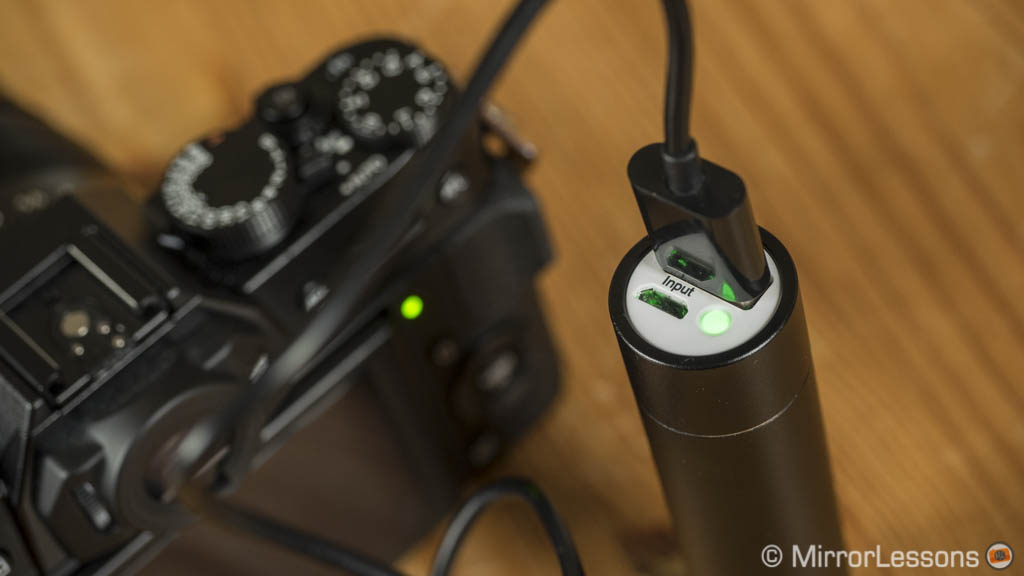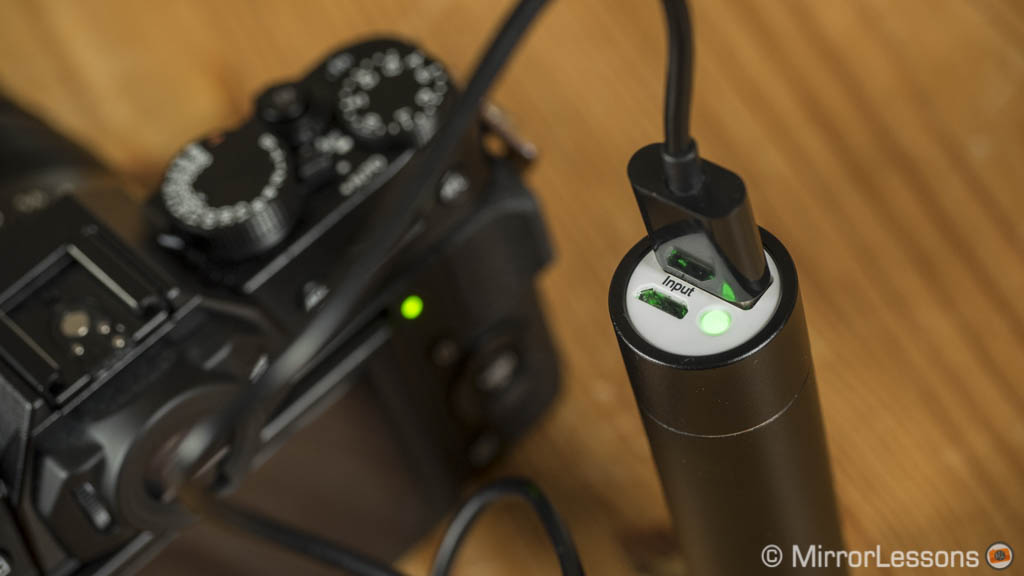 In addition to the spare battery and chargers mentioned above, an alternative solution is to take advantage of the USB charging capabilities of the X-T20. Having a portable charger with you can be useful if you want to boost the battery during a lunch break or when you don't have access to ground power.
We own the Astro mini which is the previous generation of the product you can find now. The model we have is 3200mAh meaning it is capable of charging one battery from 0 to almost 100% before it runs out of juice. In my tests, it charged a NP-W126S on the X-T20 from flat 0 to 55% in one hour and up to 98% in two hours. If you want more charging power or want it to last for a longer time, you need more amperage. You can find models at 5000mAh and 10000mAh and they don't cost much more. The Anker can be re-charged via USB.
Good: small, inexpensive, can charge a battery from 0 to 98%
To consider: for better performance you need a model with more amperage
Compatible with X-T10: X-T20, X-T30 (you need a USB C to USB A 3.0 cable which is not supplied with this particular model); the X-T10 cannot be charged via USB
Check price of the Anker mobile charger on Amazon, Amazon UK and eBay

---
Let there be light: compact flash units
There is an increasing number of compatible flashes on the market for Fujifilm cameras nowadays. I recently had a look at several models and here are the ones that I find the most interesting for the X-T20 as a starter kit.
Useful notes:
if you already own flashes from other brands and want to use them on the X-T20, there are TTL-compatible triggers such as the Cactus V6 II that are worth looking into. I will try to test these as soon as possible.
Given its very attractive price and specifications, we will test the new Godox 350F as soon as it becomes available.
Metz Mecablitz M400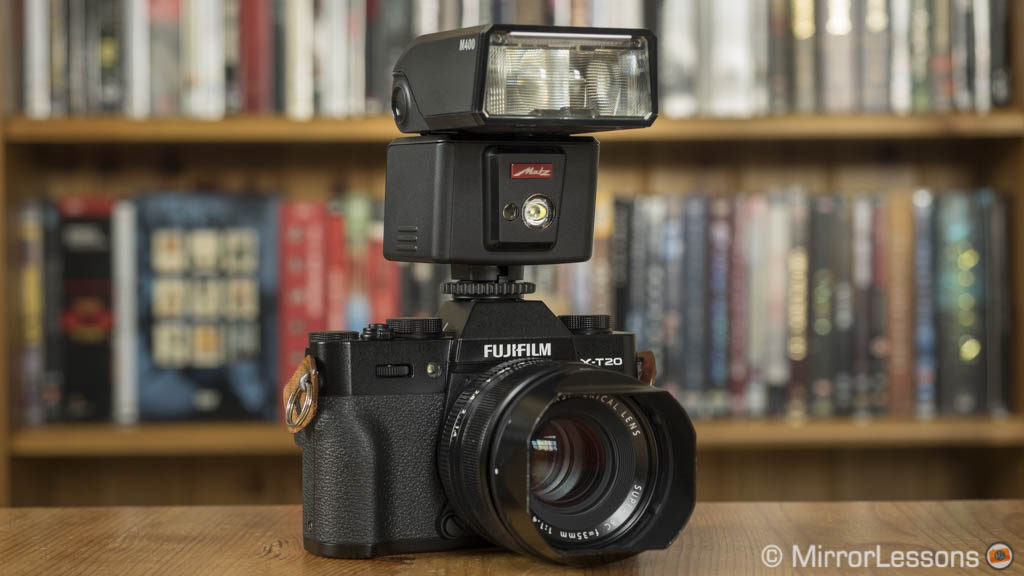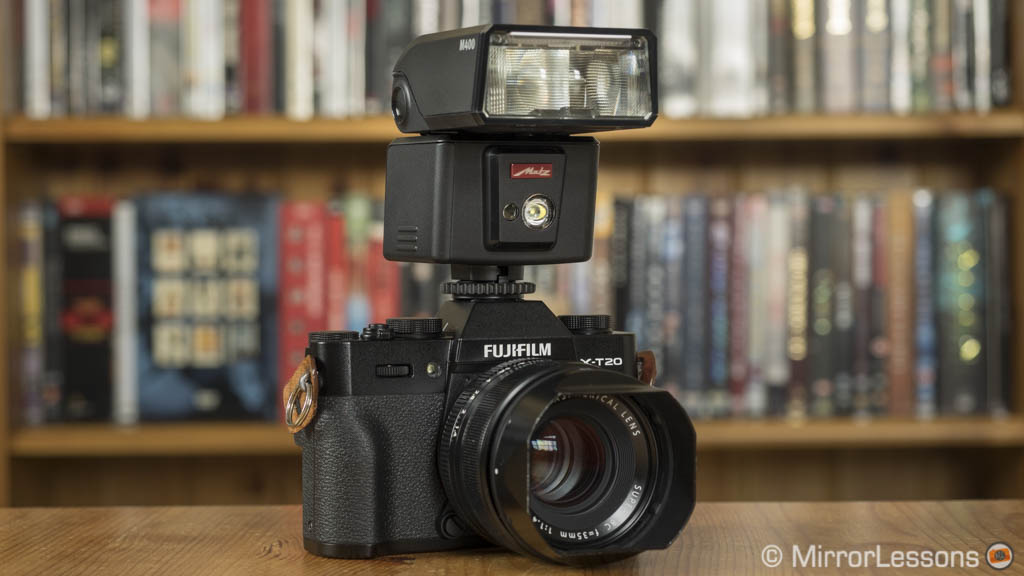 I chose to test the M400 because I liked the idea of receiving firmware updates via the USB port. A few days after the order, Metz announced a new version that enables remote control and High Sync Speed for Fujifilm cameras. What perfect timing!
The Metz M400 is light, compact and fits a small camera like the X-T20 really well. The build quality is robust. The head can be tilted up 90°, rotate up 180° and includes a reflector card and a wide angle diffuser. On the rear you find a monochrome vertical display that can be used to navigate through the various settings. It also shows useful information like the distance range according to your exposure settings. There is a 4-way control pad to change settings or vary flash compensation but the buttons lack some sensitivity. The On/Off button is too flat and hard to press.
Concerning the performance, the M400 has a guide number of 40/131' (ISO 100) and a range of 24-120mm (equivalent). The lamp recycling time is very short even when used in continuous shooting mode. The flash supports TTL and HSS. Paired with other M400s or units compatible with Fuji's remote system, you can work wirelessly with master and slave options (optical communication). In Servo mode you can control the M400 remotely with the built-in flash of the X-T20 (commander function) but it will only work in manual mode. There is a front LED light that can be used for video or an AF beam light. Finally you can save your favourite settings in two program modes to recall them quickly.
Good: reasonable price, small, powerful, TTL, HSS, USB port for firmware updates, useful LCD screen, easy to use
To consider: optical wireless communication, needs another unit for complete wireless functionalities, buttons lack some sensitivity
Compatibility: X-T20, X-T30 (not all the functions are available for the X-T10)
Check Metz M400 price on B&H Photo
Nissin i60A + Air 1 Commander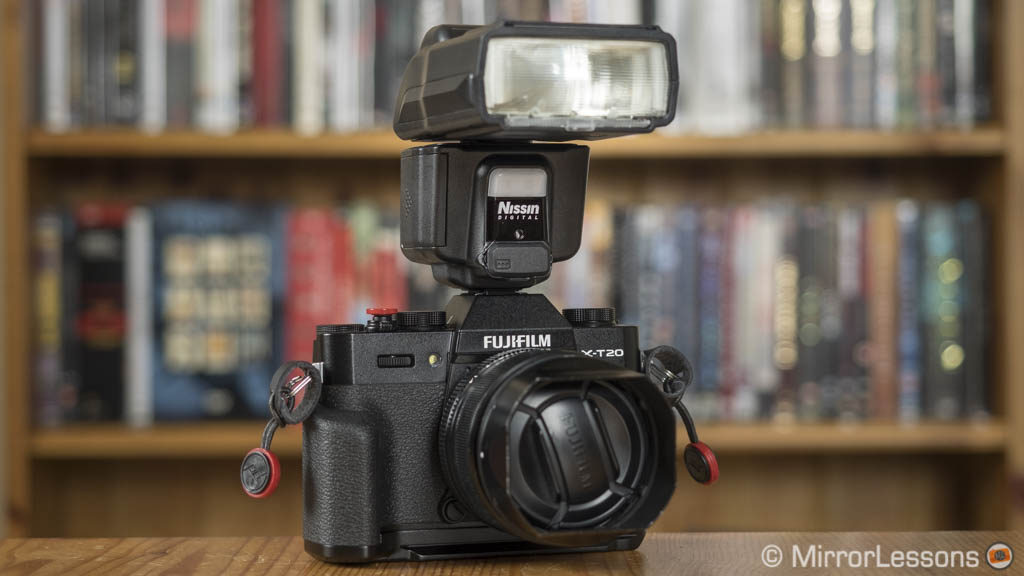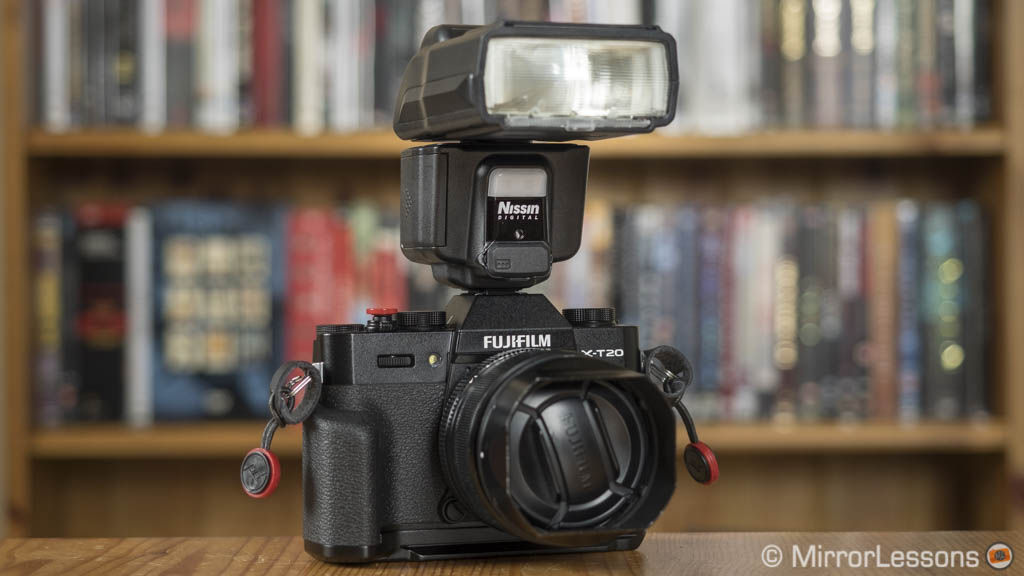 If you are interested in off-camera flash possibilities, the Nissin i60A is a good solution because it supports radio communication (2.4GHz), also called NAS (Nissin Air System). You will need the optional Air 1 Commander that allows you to control the flash wirelessly with TTL. The Air 1 can support up to 3 groups and 8 channels and works with every NAS compatible flash from Nissin, independently from the brand version.
On its own, the i60A is a good flash with a 60/197' GN and 24-200mm zoom range. It is compact and lightweight but heavier than the Metz. It has solid construction and a coloured LCD screen on the rear. Thanks to the two dials, the flash is very easy to set up and use but the LCD screen has a delay when changing settings which is somewhat annoying. It also produces a whistling sound when turned on. There is a fill-in reflector and a diffuser in the head and what I like is that they are separate so it's easier to use one or the two together. The kit includes a soft box. The flash can be connected to a power source to reduce the recycle time.
Important note about HSS: the i60a and Air 1 are compatible but need a firmware upgrade. If you already own the products, you need to send them to Nissin as it can't be done from home. If you are planning to buy them, make sure to buy the updated versions. On the i60A box there is a grey sticker stating that the flash has received the HSS update. On the Air 1 box there is a red dot. You can find some visual information on FujiRumors.
Good: not too expensive, powerful, TTL, easy to use, supports radio communication for off-camera work
To consider: make sure to buy the updated Fuji version if you want HSS, you need the optional Air 1 commander to work off-camera, a little bit noisy
Compatibility: X-T20, X-T30 (not all the functions are available for the X-T10)
Check Nissin i60A price on B&H Photo
Check Nissin Air 1 price on B&H Photo
---
More artistic control: filters
One of the accessories that landscape photographers like the most is filters to create long exposures or capture more vibrant colours in the sky, amongst other things. If you like the genre, here is something you may want to experiment with.
Lee Seven5 system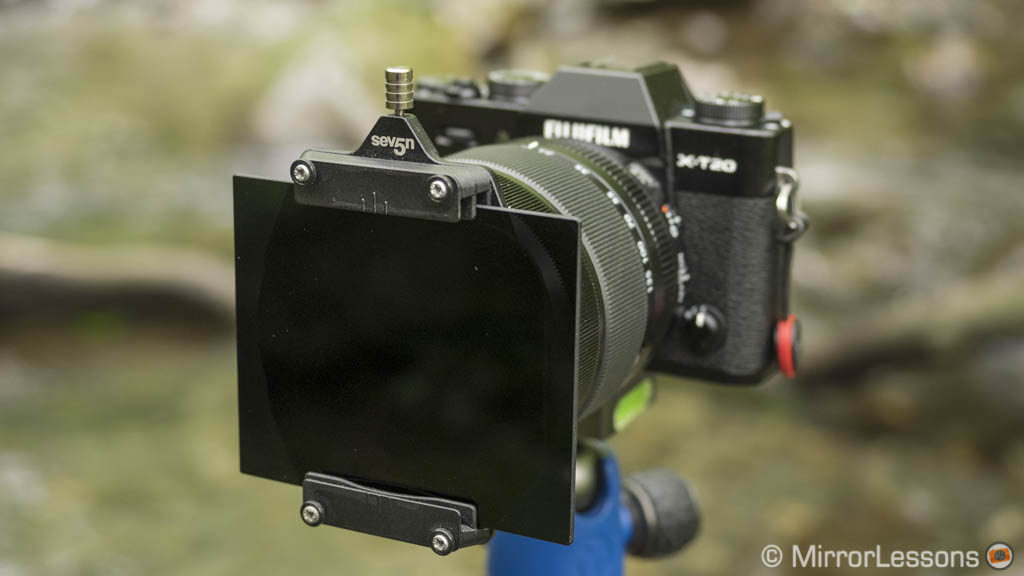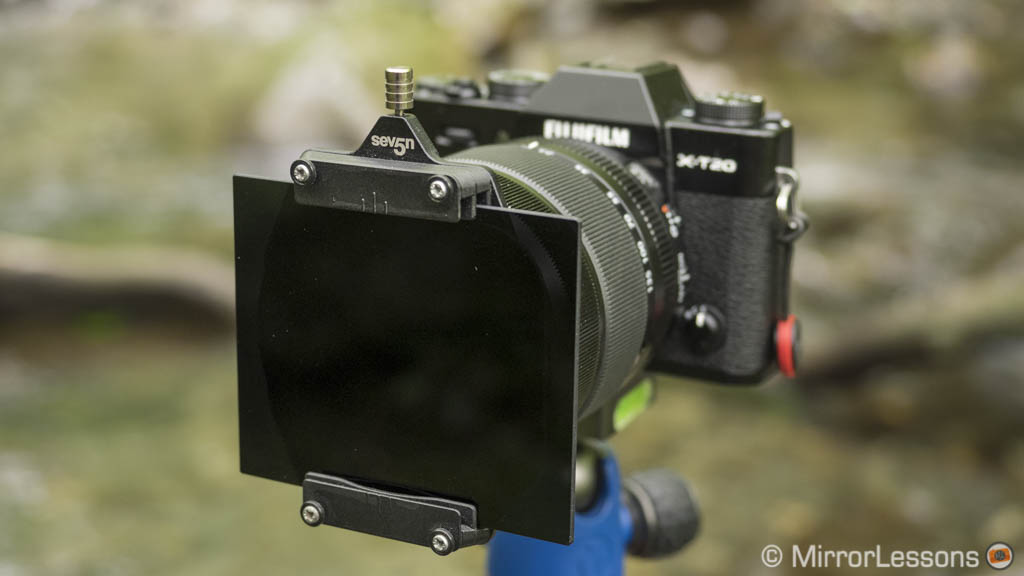 The Seven5 system has been designed specifically for mirrorless cameras and we've used it on many occasions since its first release. It is based on square filters that are smaller than the 100mm series (75x90mm) and are a better fit for some of the small lenses you can find. The filter holder can house two filters and you will find a selection of different types including the Little and Big stopper ND filters. There is also a special polariser circular filter that you can attach to the filter holder.
To mount the holder on the lens you need an adapter ring that matches the filter thread size of the lens. There are different kits available as well (excluding the adapter ring) but if you are new to filters it might be better to start with one and buy the items separately. The only drawback: it comes at a price but the filters are of very high quality.
Good: high quality filters, compact and easy to use
To consider: expensive, adapter rings must be purchased separately, not compatible with XF 16-55mm f2.8 (filter thread too large)
Check price of the Lee Seven5 starter kit on Amazon, Amazon UK, eBay and B&H Photo
Hoya circular filters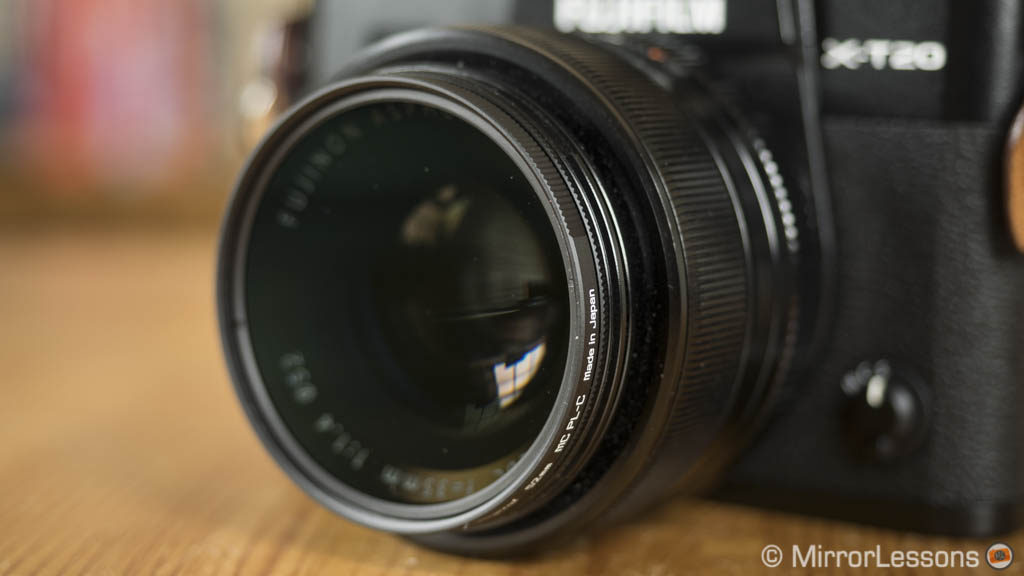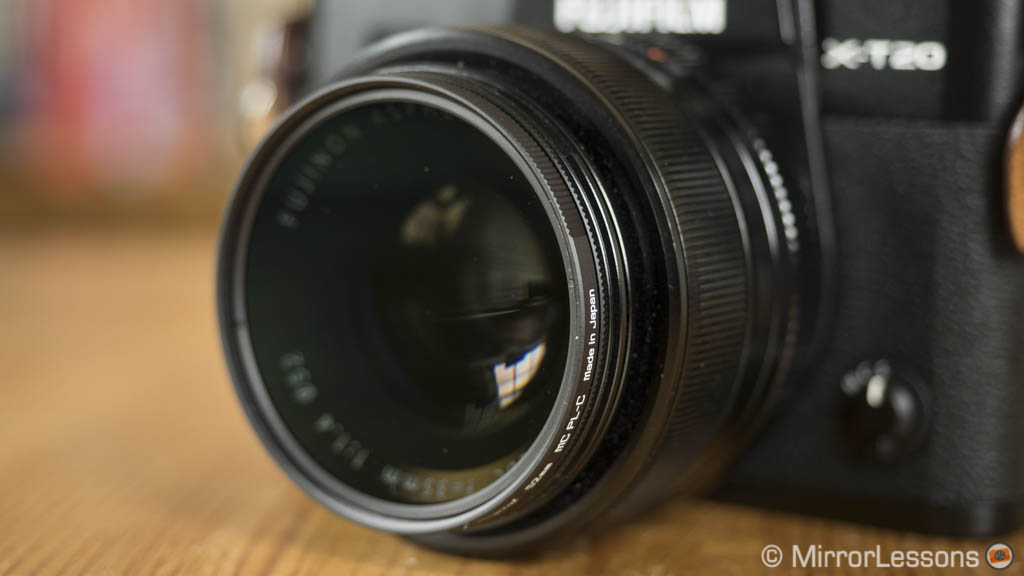 If you looking for just one or two filters to use on the same lens, then the square filter system might sound too expensive. In that case you can turn to circular screw-on versions. You just need to choose the right diameter and attach it to the lens directly.
Hoya is a popular band and has a vast selection of quality products. For example the Pro1 polarising filter you see above is useful for landscapes to improve contrast and saturation or to reduce atmospheric haze. It is also extremely useful to reduce reflections if you need to photograph something behind glass or experiment with portraits.
Another we experimented with recently is the Infrared R72 filter. It is a good way to start with this genre before buying an infrared converted camera or converting yours. Note that the R72 works better on kit lenses rather than premium primes.
You can also find UV filters to protect your lens but there are a few drawbacks to be aware of: cheap ones can reduce sharpness. Better quality versions can still create ghost flares with certain sources of lights (street photography at night for example).
Good: quality filters, lots of selection and good prices
To consider: worth it if you need a couple of filters for select lenses only
Check price of Hoya circular filters on Amazon, Amazon UK, eBay and B&H Photo
---
Remote control
There are different reasons you might want to control your camera remotely and the first example that comes to mind is long exposures. The T mode on the X-T20 doesn't go past 30 seconds. If you want a longer duration you need to use the Bulb mode by pressing and holding the shutter button which can be uncomfortable and can create micro vibrations that will decrease sharpness.
A trick to avoid the latter is to use the touch screen but you still have to keep your finger on it for the entire duration of your exposure. Unfortunately connecting the camera to the mobile app via Wifi doesn't solve the problem as the Bulb mode is not available (a silly thing really). So here are a couple of inexpensive solutions.
JJC mechanical shutter release cable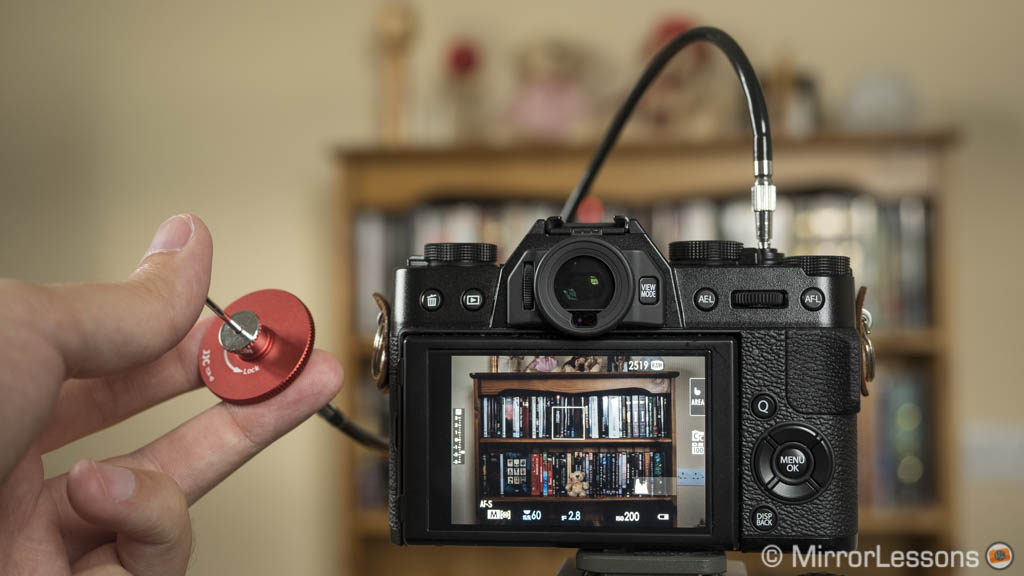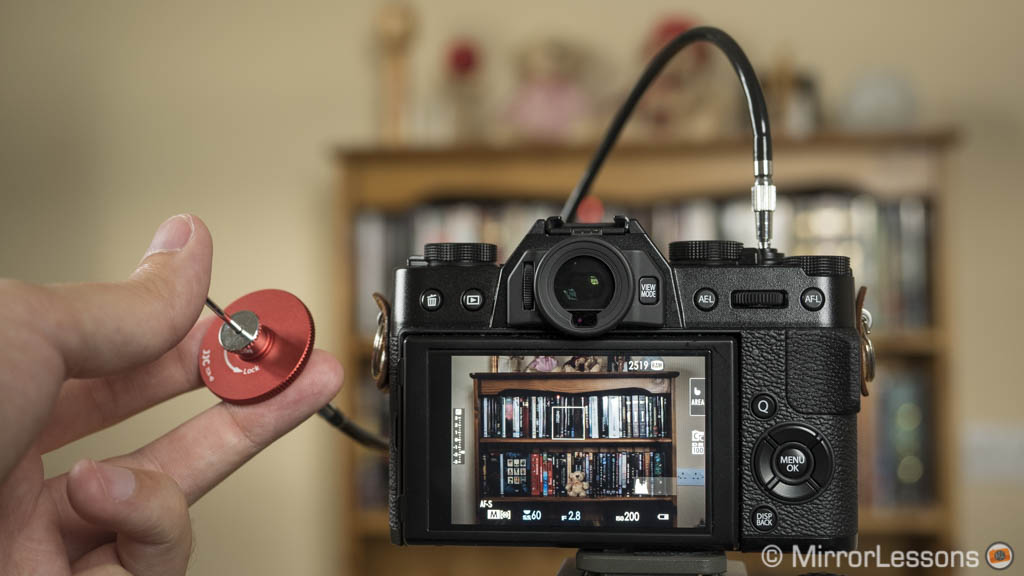 If you want something simple and "old school", JJC has the answer with its shutter release cable. Available in four different colours and two lengths (40 or 70cm), the cable is connected to the threaded shutter button. You press to start the exposure and there is a small silver dial to lock the button so you don't have to keep holding it. To end the exposure, unlock the cable and release it. It's simple, fun and effective. A word of advice: I got the 40cm version but it can feel a little short so you might find the 70cm version more versatile.
Good: inexpensive, well built, exposure can be locked
To consider: the 40cm version feels a little bit short for prolonged outdoor work
Compatibility: X-T10, X-T20, X-T30
Check JJC shutter cable on Amazon, Amazon UK and eBay

JJC JM-II wireless remote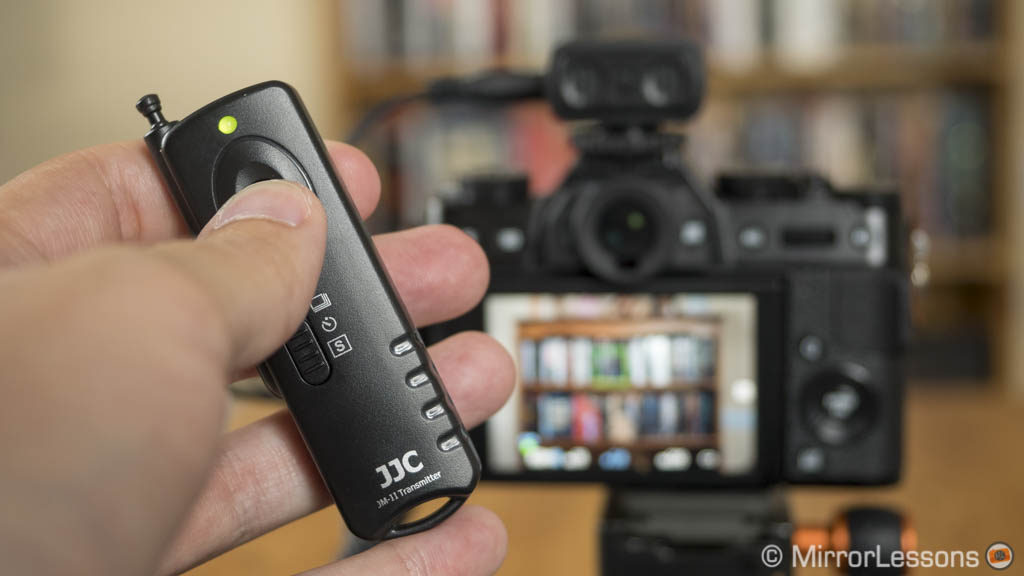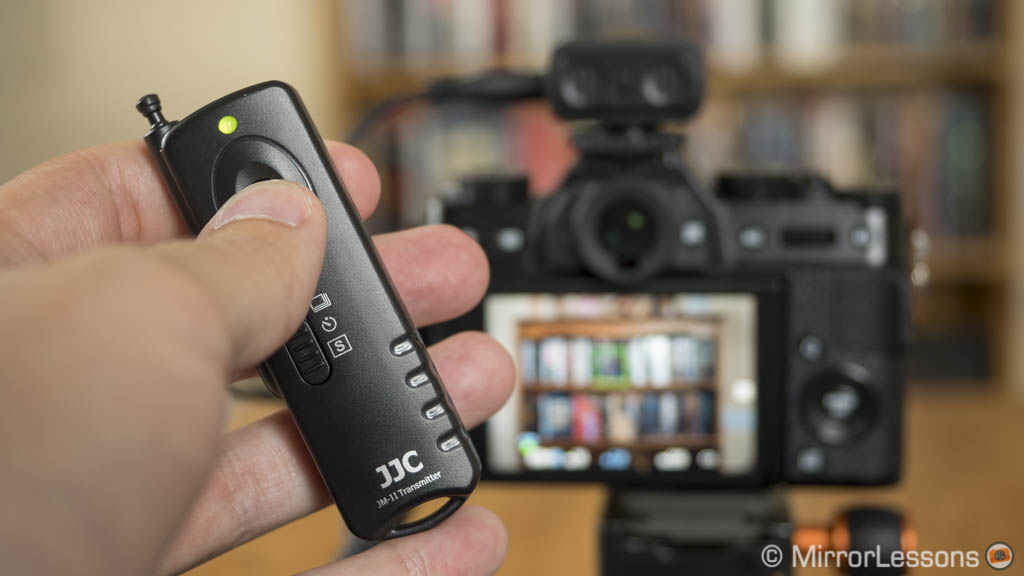 JJC is once again on our list with this wireless remote. The JM-II is composed of two parts: the receiver that you fix to the camera's hotshoe and connect to the USB port and the transmitter.
This remote allows you to do different things. In bulb mode, you press and hold the button until the LED lights turn off. You can then release your finger and press the button again when you want the exposure to stop. If you half press the button the camera will focus and you see the LED turn green on the receiver when focus is acquired correctly. Note that the receiver can also be used as a wired remote to trigger the shutter.
With the transmitter you can perform additional operations like take three pictures in a row which is useful for group shots (it works even if the camera's dial is on single shot). With the CL or CH continuous shooting modes, you can use the remote to start the burst and press again to stop it. There is a delay mode as well where the exposure starts after 5 seconds.
Good: inexpensive, easy to use, different shooting functions
Compatible with X-T10: X-T10, X-T20, X-T30*
*Note for the X-T30: in order to use the JM-II remote, you need to buy an extra cable, the JJC Cable-R2, that replaces the Fujifilm RR-100. It allows you to connect the receiver to the 2.5mm remote port of the camera (unlike the X-T20, you can't connect it to the USB port).
Check JJC JM-II price on Amazon, Amazon UK and eBay

For X-T30 only: check JJC Cable-R2 price on Amazon, B&H Photo and eBay
---
Headphone adapter (X-T30 0nly)
Fujifilm has upgraded the USB port to Type C on the X-T30, which brings a few benefits over its predecessor like faster transferring, the possibility to receive power delivery and the option of outputting sound so that you can use headphones while recording video. The thing to know however is that the X-T30 outputs an analogue audio signal, and most headphone to USB C adapters are designed for digital signals, meaning that they have a DAC inside that transcode the signal from digital to analogue. For the X-T30, you just need an adapter that passes the signal through without any conversion and they are less easy to find. Below I've listed the two that I've tested on the X-T30 and I can confirm they work.
Sony EC270 USB Type-C 2-in-1 Cable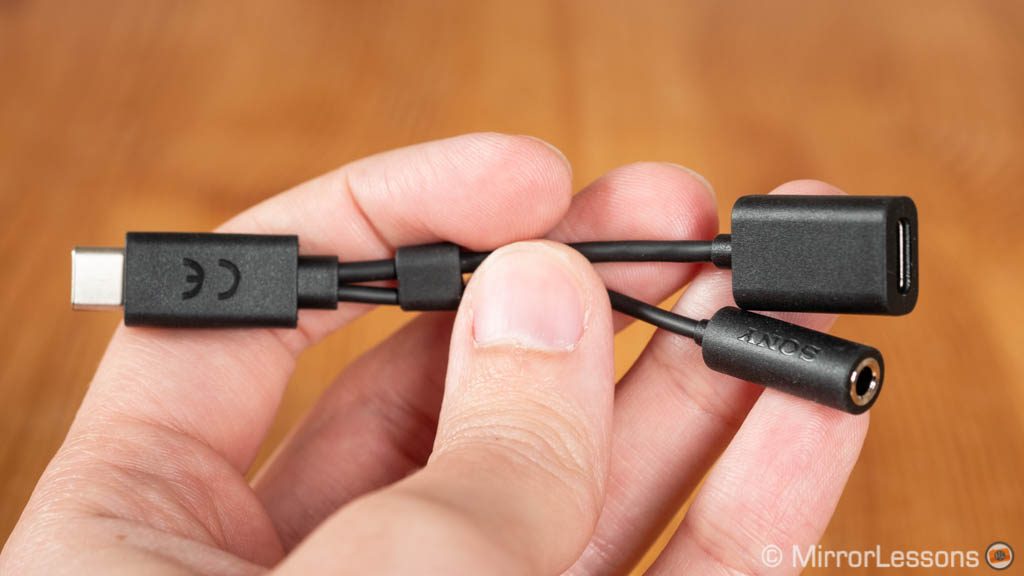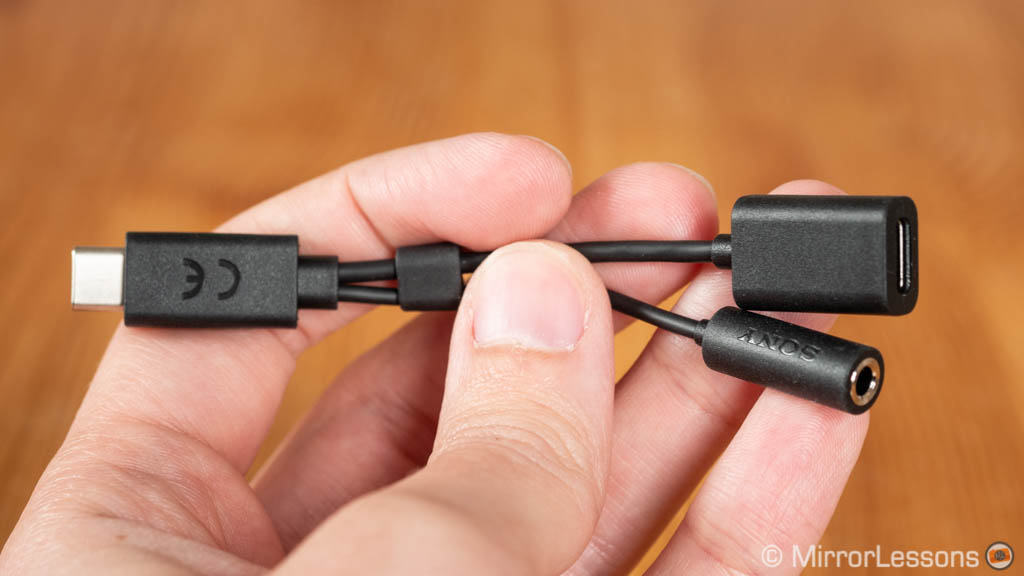 Designed for Sony smartphones, this adapter works well on the X-T30. It is a bit expensive but its 2 in 1 design gives you the possibility to connect a USB accessory in addition to the headphones like, for example, a power bank.
Check Sony EC270 price on eBay
Moto Z USB-C to 3.5mm Headphone Adapter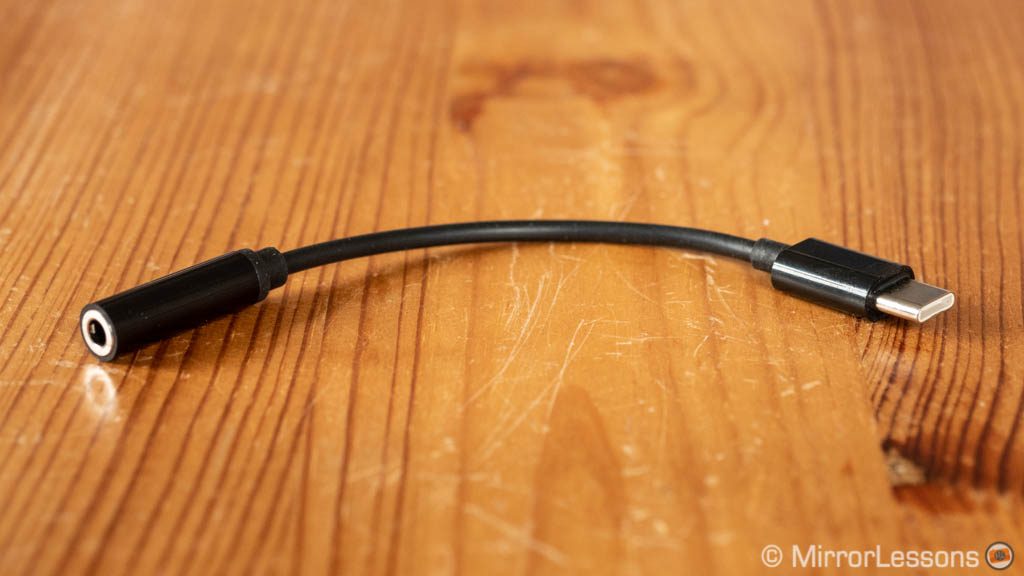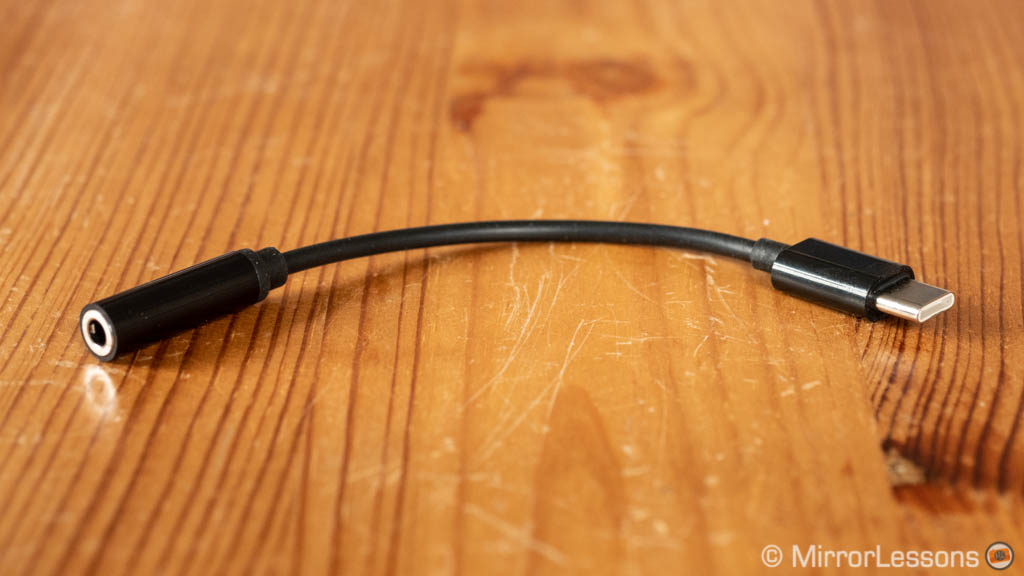 This adapter works with the X-T30 too. Unlike the Sony solution, you can connect a USB C accessory but it is less expensive and comes in a pair which means you have a spare one.
Check Moto Z USB-C to 3.5mm adapter price on Amazon, Amazon UK and eBay
---
Microphones
If you're keen on improving the quality of your video, investing in a good microphone is a recommended step, whether you need it for interviews or just want to record higher quality ambient sound. Here are two products from Rode that gave me excellent results. I originally tested them on Sony cameras but they work with Fujifilm models as well.
Important: for the X-T10, X-T20 and X-T30, you'll need a 2.5mm male to 3.5mm female cable adapter as all three cameras have a 2.5mm port, which is smaller than the standard 3.5mm jack equipped with most microphones. I tested the one from VCE but any one should do really.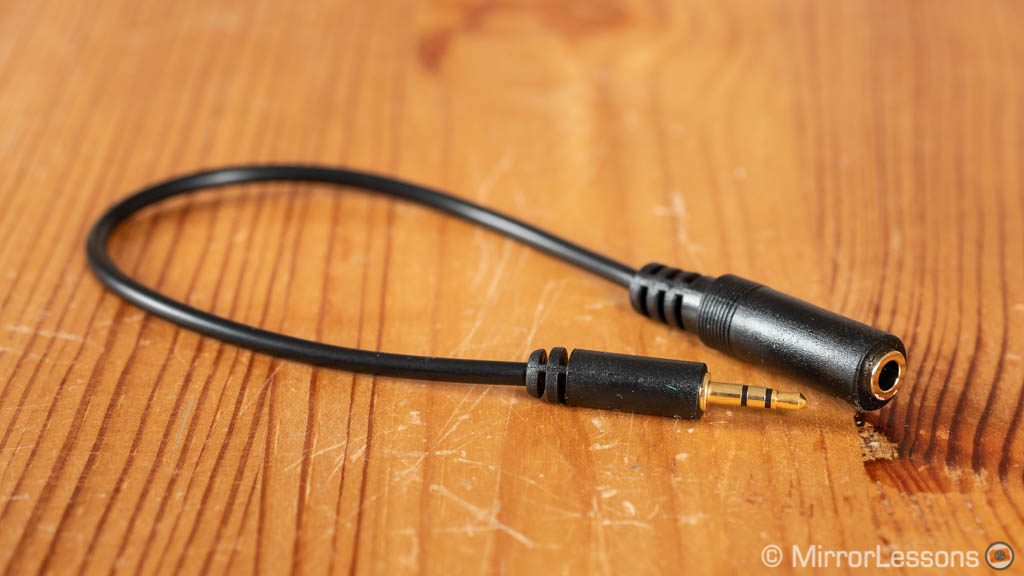 Check VCE 2.5mm male to 3.5mm female adapter on Amazon, Amazon UK and eBay
Rode VideoMic Pro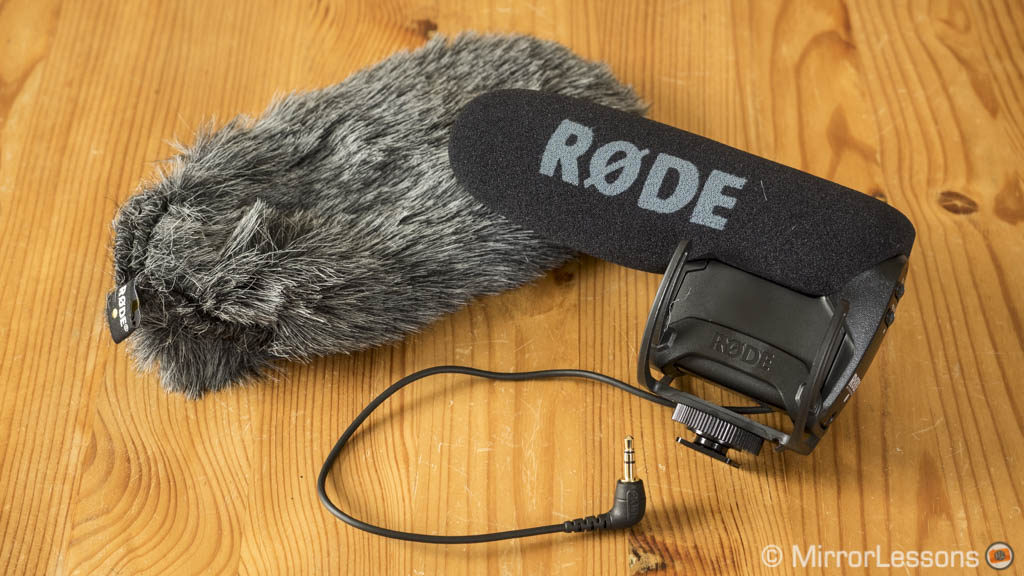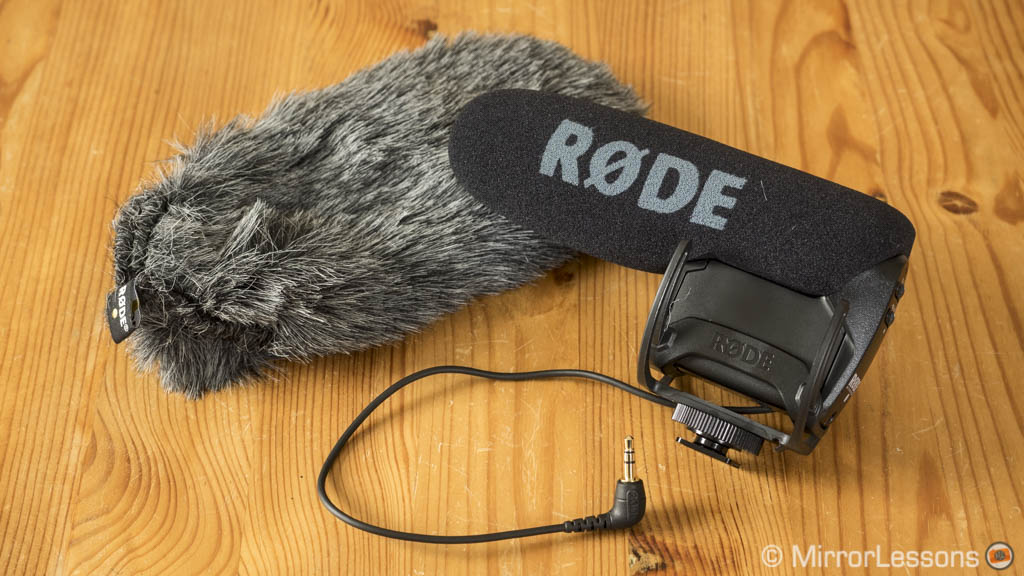 The Rode VideoMic Pro is a condenser microphone with a super cardioid pattern. It is lightweight, reasonably compact and features a shock-mount to make sure no vibrations or rumbling can affect the microphone when recording.
The VideoMic Pro connects to the camera with a 3.5mm jack (you'll need the 2.5mm to 3.5mm adapter mentioned above). The microphone gives you a dual mono signal. There are two switches on the rear. The one on top allows you to select a high pass filter (80Hz) to reduce background noise. The second can decrease or increase the recording level (-10db or +20db). The quality is excellent with clear and deep audio. It also does a good job at separating voices from background noise.
My only two complaints are that inserting the 9V battery is a bit annoying because the battery cover isn't easy to open, and the shock mount feels plasticky and cheap. On the other hand, the price is reasonable. A bundle that includes a DeadCat wind shield is also available.
Good: audio quality, comes with a shock-mount, possibility of selecting a high pass filter and varying the recording level
To consider: the shock-mount feels fragile, the battery is annoying to insert and remove
Compatible with: X-T10 X-T20, X-T30 (not included 2.5mm to 3.5mm adapter needed!)
Check Rode VideoMic Pro on B&H Photo
Rode RodeLink Wireless Filmmaker kit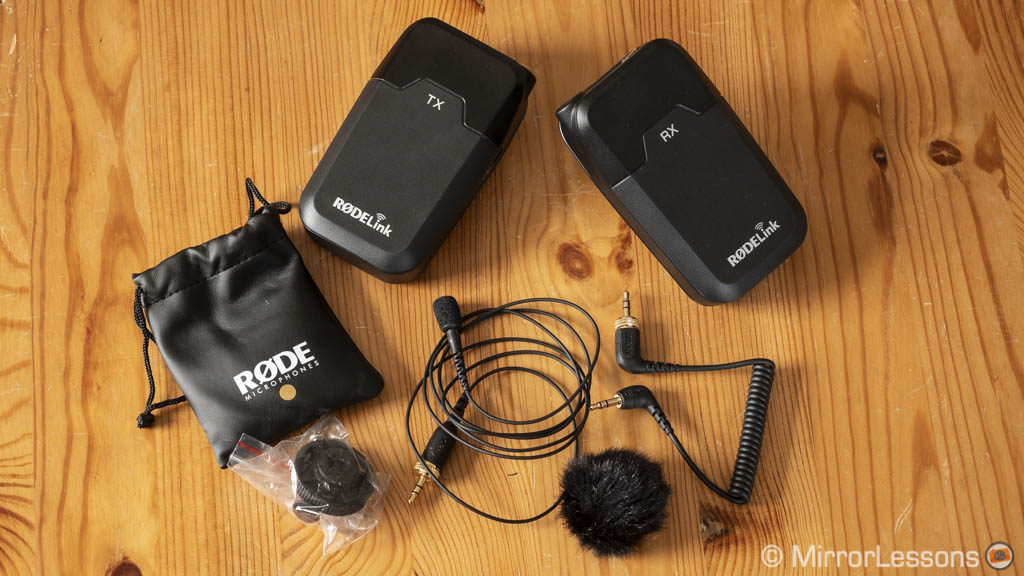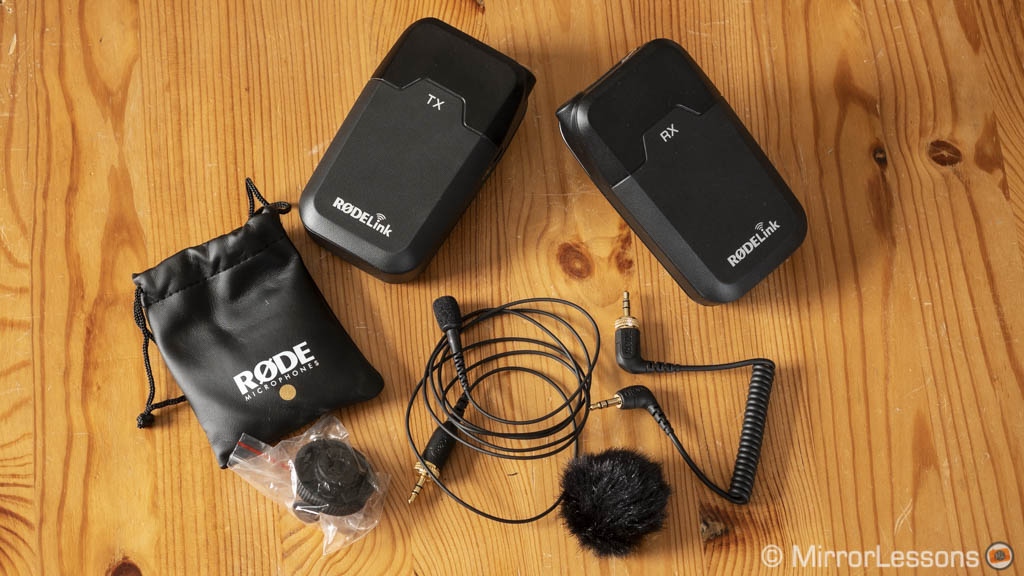 The RodeLink includes one Lavalier microphone, one transmitter unit and one receiver unit. It is extremely easy to set up: you just need to pair the transmitter with the receiver by pressing the red pairing buttons and it only takes a couple of seconds. The antennas are built-in so the only other step is to connect everything. The receiver connects with a 3.5mm cable so you'll need the 2.5mm to 3.5mm adapter mentioned above. The only annoyance is that buttons to control the recording levels are located inside the battery compartment and are therefore less easy to access on the fly while working.
The transmitter and receiver are a bit larger than you'd expect but this is a minor complaint. The overall build quality feels a bit cheap however and that includes the small fluffy wind shield that started to shed right away. Many users have also complained about the mic wire breaking. So make sure to handle everything with care.
The devices work with a 2.4GhZ digital signal and provide a 24-bit 44.1kHz lossless transmission. The lavalier microphone gives a clear voice but I found that it lacks some depth and warmth. The signal holds well at medium distances, like when walking into another room for example (Rode says it can work up to 100m). The level displayed on the monochrome screen on the rear of the receiver lacks precision so its only real purpose to show you that there is indeed a signal. The transmitter and receiver use two AA type batteries each and the battery life is very good overall. Alternatively they can be powered via USB.
Good: easy to set up, good signal when working at a distance, good audio quality
To consider: not the best build quality, voice lacks a bit of warmth with provided lavalier mic, no 48kHz option
Compatible with: X-T10, X-T20, X-T30 (remember the 2.5mm to 3.5mm adapter)
Check RodeLink kit price on B&H Photo
---
Memory card wallets
If you own several memory cards, it is important to keep them safe in one place. Having a card pouch or wallet can be a good solution not only to store them at home but also to carry them around.
Cecilia Memory Card Wallet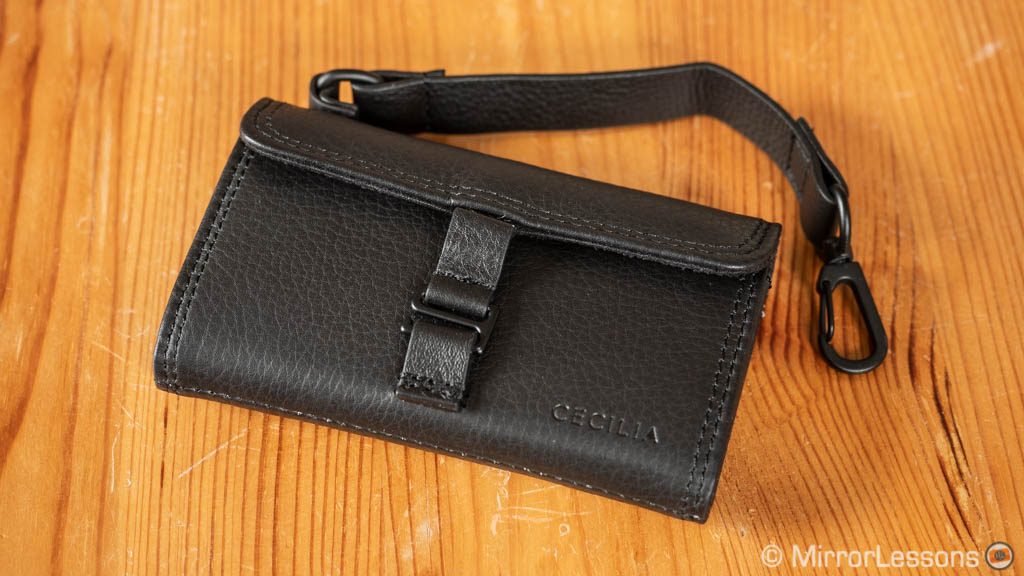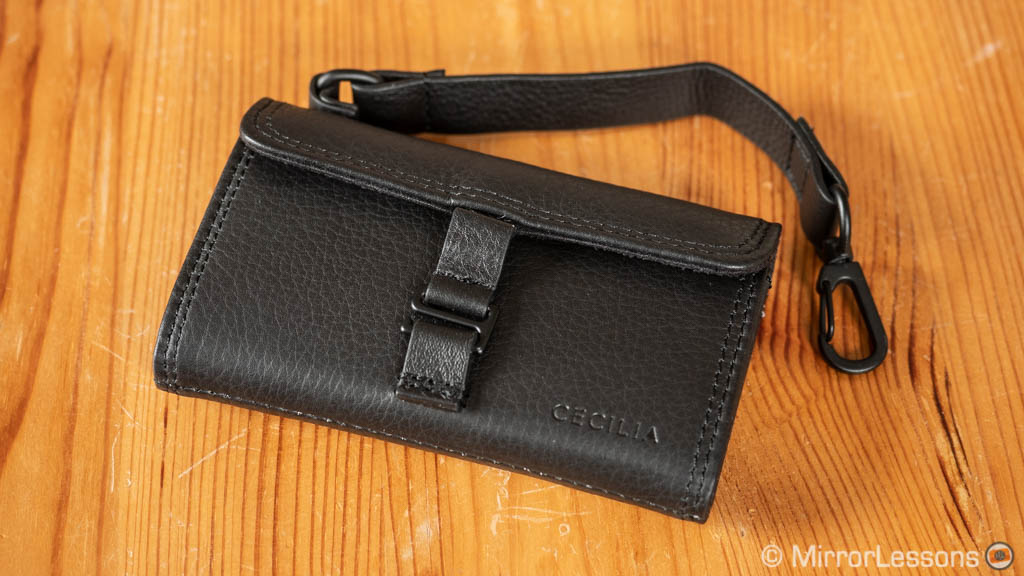 The Cecilia wallet is an elegant and minimalistic solution that comes in three versions: Black leather, Brown leather or Charcoal Cotton Canvas. It is handcrafted and features a soft microfibre interior. It can store 9 SD cards and 4 Mini SD cards. The card slots are tight to ensure that the cards don't move, which also makes it a bit difficult to pull the cards out when needed. Each slot has an opening to keep the part of the card that can be labelled uncovered.
The wallet has a nice soft finish. It folds into four making it compact enough to be carried in your pocket or most pockets of a camera bag. The small metal g-hook secures the closing and there is a short strap with a snap hook clip if you want to attach it somewhere for extra security. The strap can't be removed however.
Good: elegant, well built, can store 13 cards (9 SD and 4 MiniSD)
To consider: the strap can't be removed
Check Cecilia Memory Card Wallet price on B&H Photo and Cecilia
Cosyspeed ST-Wallet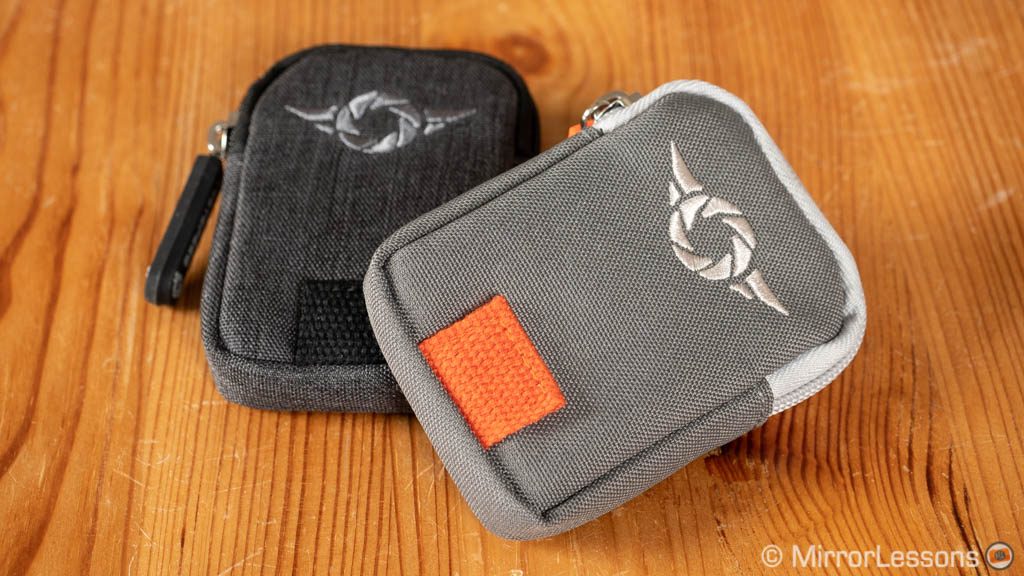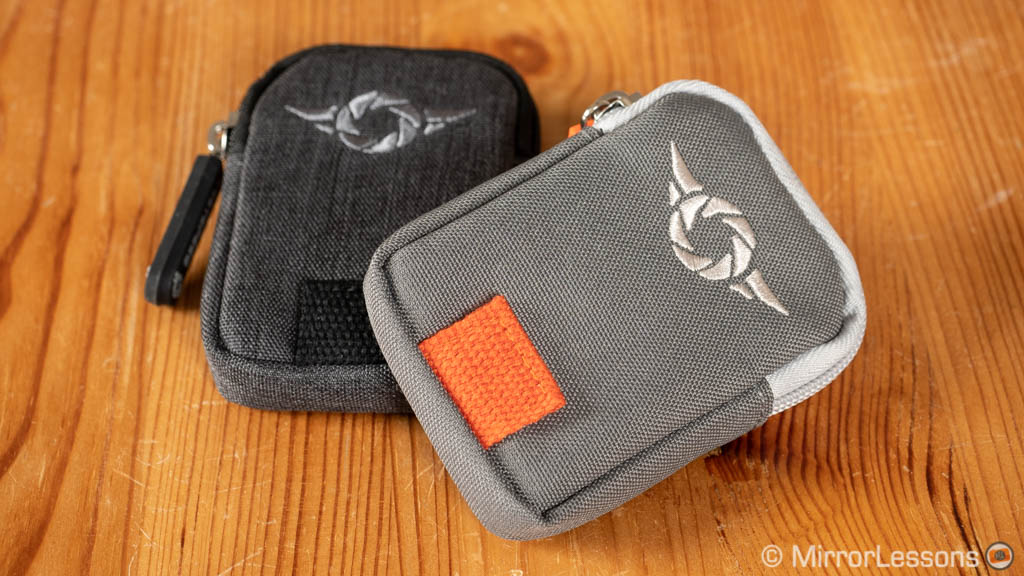 If you don't need to carry a lot of cards, but just a few spares, you may want something smaller and the Cosyspeed ST-Wallet is a nice alternative. It is available in four different colours and is made of Nylon 600D and 900D, which are the same materials used for the popular Camslinger Bag series.
Inside, there is a removable holder that can contain up to 8 SD cards (4 on each side). At first the inexact size of the individual card slots and the fact that they are not perfectly aligned felt like a lack of attention to design. However the elastic band allows you to fit the cards properly and after spending some time using the wallet, I found quite easy to slide the cards in and out. Inside the wallet you'll find another pocket that can hold bigger cards. Keep in mind though that when the fully-loaded card holder is inside, it is a bit difficult to pull out a card from the internal pocket.
Cosyspeed advertises the ST-Wallet as protected against RFID scanners thanks to a protective film, making it an ideal choice if you're sensitive about privacy (it can also be a safe storage for contactless debit and credit cards). On the outside, unfolding the scratch cover allows you to stick the wallet inside most camera bags.
Good: small, protection from scanners, can store 8 to 10 cards as well as other items such as credit cards
To consider: the card slots are not perfect in size but remain easy to use thanks to the elastic band
Check Cosyspeed ST-Wallet price on eBay
---
SD cards
As far as SD cards go, I can only recommend the ones I've been using for many years and that never caused me any problems. One of these is the Sandisk Extreme Pro SDXC 64GB (U3, Class 10) which is great for 4K video or if you shoot a lot in burst mode with RAW files. The card can house up to approximately 2500 files (lossless compressed) or 80 minutes of 4K video.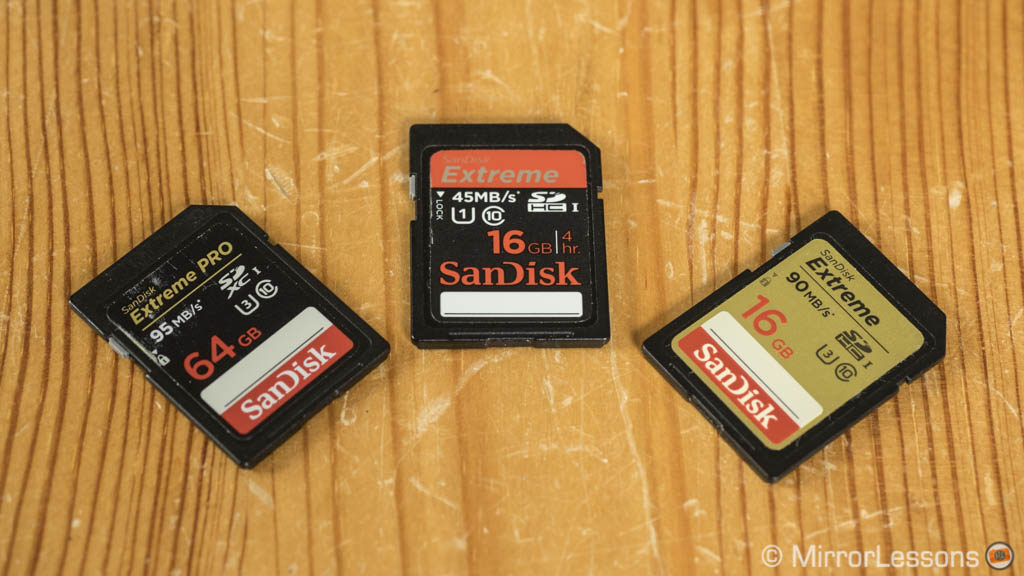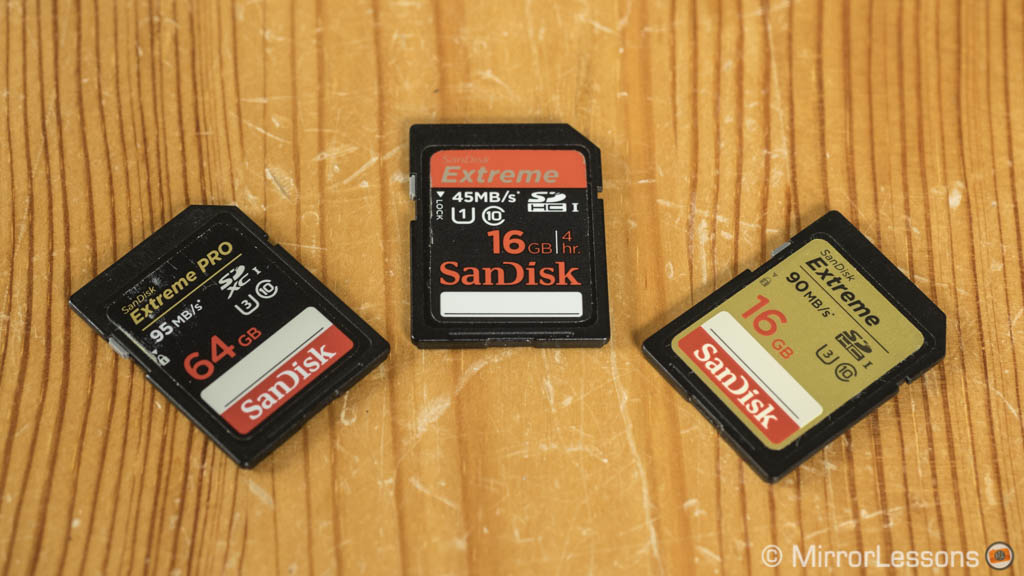 If you are not interested in video or don't need large capacities, the 16GB or 32GB versions of SanDisk cards can be found at interesting prices.
Check the price of SanDisk SD cards on Amazon, Amazon UK, eBay and B&H Photo
Note: I've used Lexar cards in the past but had several problems with some of them so I now tend to avoid this brand. However I understand that others may have different opinions based on their own experience. The Lexar brand has recently been discontinued which means you may find interesting deals or discounts.
---
Lens cleaning kit
Cleaning your lens from time to time is always a good idea. You don't want some spots appearing in your image when shooting in backlit situations because the front or rear elements are covered in dust. Note that the two products below are not for cleaning the sensor.
Zeiss Lens cleaning kit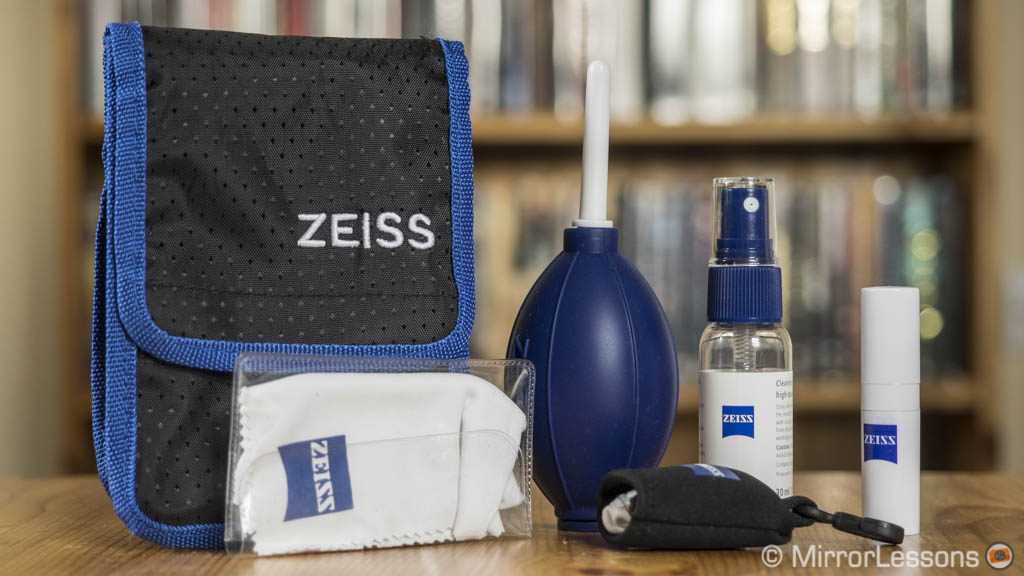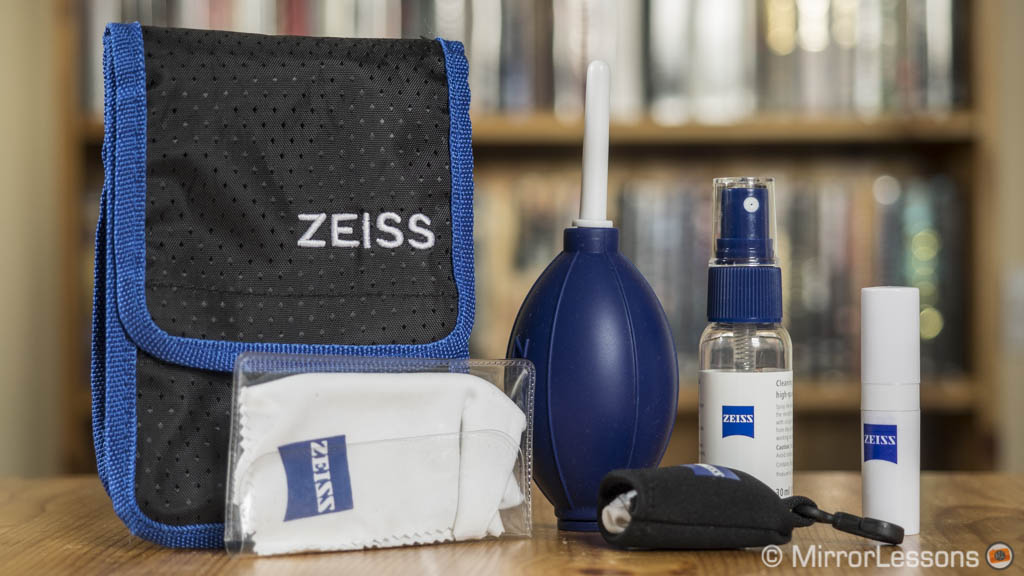 The cleaning kit from Zeiss comes with a nice pouch, a large air blower and dry/wet cleaning solutions. The soft microfibre cloth is of high quality and durable – I'm still using mine even after two years. There is a liquid cleaning solution in a spray bottle, 10 moist cleaning wipes and a dust brush. In these past two years, I've only used the liquid a couple of times while we don't have moist cleaning wipes left. That being said, if you clean your lenses regularly, most of the time the air blower, dust brush and microfibre cloth will be enough.
Good: good set of quality cleaning tools, comes with a useful pouch to keep everything safe
To consider: other brands offer more for less money
Check Zeiss cleaning kit price on Amazon, Amazon UK, eBay and B&H Photo
Camkix cleaning kit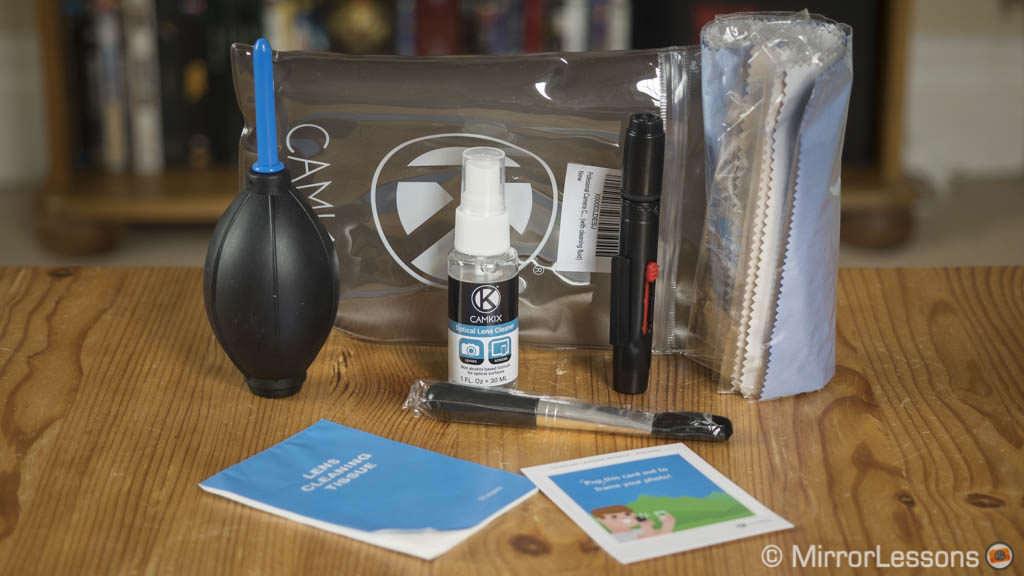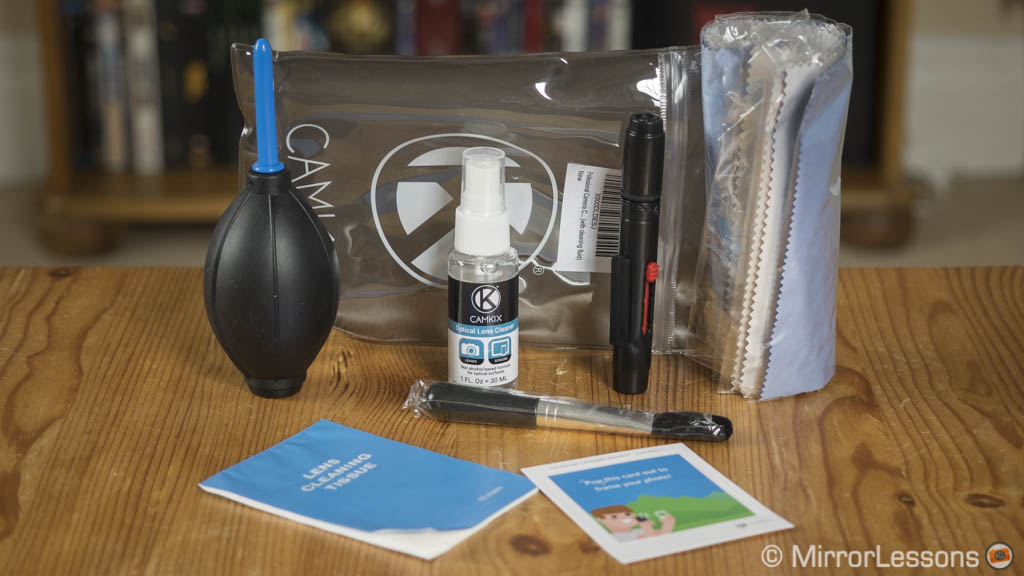 If you don't want to spend much on a cleaning kit, then Camkix offers you lots of stuff for less money. Certainly the bag is less stylish but you get more microfiber cleaning cloths, 50 sheets of lens cleaning tissue and a double sided lens cleaning pen (dust removable brush on one side, non-liquid cleaning element on the other side).
The brushes feel a little bit cheap and can lose some of their bristles occasionally, and the non-liquid cleaning pen can attract dust so make sure to cover it as soon as you've done with it. After the first use, it may leave a few small black particles on the lens but they are easily removable with a cloth. There is an extra brush that can be useful to get rid of dust from the various nooks and crannies of your camera.
Good: lots of stuff for a very low price
To consider: brushes and pen feel a little bit cheap
Check price of Camkix cleaning kit on Amazon, Amazon UK and eBay

---
Do you have any other accessories to suggest for the Fujifilm X-T20? If so, don't hesitate to leave a comment below!
You may also be interested in:
---